Apple Loses Bid for New Trial and 3 Morning Hot Stocks Trading Today
Apple (NASDAQ:AAPL): Current Price $460.78
According to Reuters, US District Court Judge Lucy Koh overruled the jury's finding that Samsung intentionally violated Apple's (NASDAQ:AAPL) patents, thereby removing the possibility of the damages awarded against Samsung being tripled. This gives a breather to the Korean electronics giant, as a decision otherwise would have led to the original award of $1.05 billion in damages being revised to over $3 billion. However, both Samsung and Apple lost their bids to set up a new trial.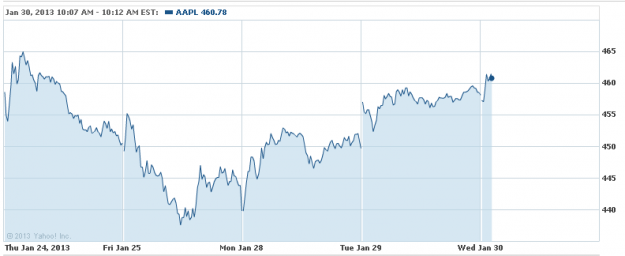 Dell Inc (NASDAQ:DELL): Current Price $13.28
According to a report by Bloomberg, Michael Dell is seeking to beef up his contribution of his 15.7% stake in Dell Inc (NASDAQ:DELL) by adding equity financing of $500 million-$1 billion, which would probably give him majority control in the privatised company. Silver Lake and Microsoft (NASDAQ:MSFT) are said to be chipping in from between $1 billion-$2 billion each. By taking the company out of stock exchange listing, Dell would have a free hand in the positioning or restructuring the company as it grapples with sliding PC sales in the face of a consumer shift to mobile computing.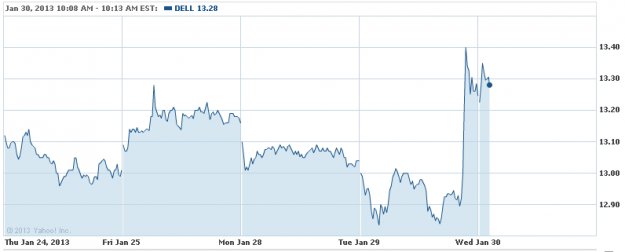 Are these stocks a buy or sell? Let us help you decide. Check out our Stock Picker Newsletter now.
United Parcel Service Inc (NYSE:UPS): Current Price $81.69
The European Union has expectedly rejected the $7 billion bid by United Parcel Service Inc (NYSE:UPS) to acquire TNT Express on the grounds that "it would have drastically reduced choice between providers and probably led to price increases," according to EU Competition Commissioner Joaquin Almunia. "We worked hard with UPS on possible remedies until very late in the procedure, but what they offered was simply not enough to address the serious competition problems we identified," he said.

Dunkin Brands Group Inc (NASDAQ:DNKN): Current Price $36.44
Dunkin Brands Group Inc (NASDAQ:DNKN) announced a deal with Vietnamese franchisee Vietnam Food and Beverage Company that would enable the installation of a number of the company's restaurants across Vietnam, commencing with locations around Ho Chi Minh City. The proposed restaurants are expected to serve both Dunkin's signature items as well as regional preferences.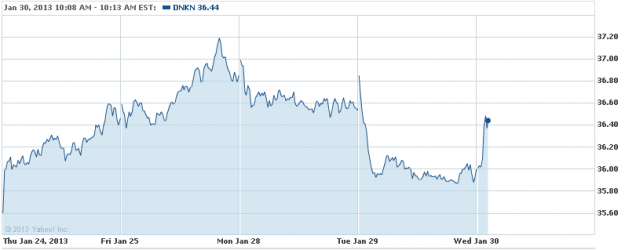 Don't Miss: Apple Loses Appeal.