Apple Loses E-Book Trial, Icahn Gets Support for Dell Bid: Market Recap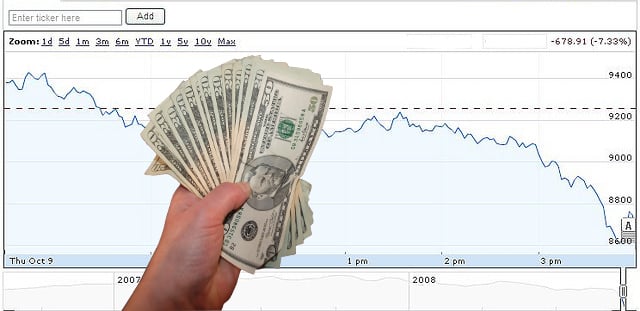 U.S. stocks had a choppy trading day, with the Dow and the S&P 500 remaining little changed as investors continued to speculate about the state of the stimulus. Investors pored over the minutes of the Federal Reserve's last meeting, released Wednesday, for signs as to when the central bank will end quantitative easing.

Gold: +0.27% to $1,249.30 per ounce, Oil: +2.37% to $105.98 per barrel, U.S. 10-Year: +1.90 to 2.68%
IMF: Global Economy to Grow Less than Predicted this Year: The International Monetary Fund has reduced its global growth forecast due to a variety of factors including U.S. budget and monetary policy, European stagnation, and a humbling of emerging markets. The projection was reduced from 3.3 percent growth this year down to 3.1 percent, the same as the global economy experienced last year… (Read more.)
Wholesalers Report Leaner Inventories: A Problem for Q2 GDP?: Wholesale inventories in the United States fell in May by the most in more than a year-and-a-half, and the month's decline represented the second consecutive drop for that key economic indicator. The decline signals to economists that low restocking by business could contribute less to second-quarter economic growth… (Read more.)
Here's the Latest Chapter in the Fed Policy Debate: If you're a regular reader of minutes from Federal Open Market Committee meetings, then the minutes from the June 18-19 meeting probably sound familiar to you. Minus a reference to the end-of-year slowdown in 2012, the statement is effectively the same language that appears in the minutes from the previous meeting in March under the discussion of committee policy action… (Read more.)
Here's your cheat sheet to today's top stock stories:
Family Dollar Stores Inc. (NYSE:FDO) closed up 7.11 percent after reporting earnings. The discount retailer's revenue increased 9.05 percent to $2.57 billion from the same quarter a year earlier. Family Dollar's adjusted earnings per share dropped 0.94 percent to $1.05 from $1.06 a year earlier. The company beat Wall Street expectations, a positive sign for investors who believe the company can continue to grow… (Read more.)
Barnes & Noble Inc. (NYSE:BKS) is believed by many to be on the verge of a break-up after CEO William Lynch resigned, and the company said it doesn't currently intend to replace him. Lynch stepped down on Tuesday, and the company moved Chief Financial Officer Michael Huseby to president of the company and CEO of Nook Media… (Read more.)
American International Group Inc. (NYSE:AIG) and GE Capital (NYSE:GE) will now both be subjected to consolidated supervision and enhanced prudential standards under the Dodd-Frank Wall Street Reform and Consumer Protection Act. The Financial Stability Oversight Council, an agency created and given powers by the Dodd-Frank Act, reported Tuesday that the first nonbank financial institutions have been designated as systemically important… (Read more.)
Zynga (NASDAQ:ZNGA) will unveil its new real money gambling Facebook (NASDAQ:FB) games, ZyngaPlusPoker and ZyngaPlusCasino, at an event in Barcelona on Wednesday. Both are gambling versions of Zynga's similar social games, produced in partnership with Bwin.party, a British real money online gambling company… (Read more.)
Apple Inc. (NASDAQ:AAPL) has been found liable by a federal judge in an e-book price-fixing conspiracy trial. U.S. District Judge Denise Cote in Manhattan ruled that Apple violated antitrust laws when it conspired with publishers to fix prices in the e-book business. "The plaintiffs have shown that the publisher defendants conspired with each other to eliminate retail price competition in order to raise e-book prices, and that Apple played a central role in facilitating and executing that conspiracy," Cote said in the ruling… (Read more.)
Dell (NASDAQ:DELL) has been playing tug-of-war for months over its future, trying to decide between rival bids from founder Michael Dell and billionaire Carl Icahn. Icahn and Southeastern Asset Management finally have another supporter pulling on their side: shareholder Yacktman Asset Management… (Read more.)
Follow Jacqueline on Twitter @Jacqui_WSCS
Don't Miss: Emerging Markets Are Where Apple's Competition is Growing.