Apple Lost This Crown to Samsung Last Year
In what is some indication of changing demand trends, Samsung (SSNLF.PK) has passed Apple (NASDAQ:AAPL) in the race for the world's biggest buyer of semiconductors. According to Gartner data released on Wednesday, the Korean company beat the iPhone maker last year on increased demand for its smartphones and tablets.
Samsung's chip purchases grew 29 percent to $23.9 billion in 2012, while Apple's semiconductor spending only grew 14 percent to $21.4 billion, Gartner said. Samsung purchased 8 percent of the world's semiconductors to Apple's 7.2 percent. In 2011, Apple had spent $17 billion on semiconductors for a 5.7 percent share of the global market. Samsung had come in at $16.7 billion for a 5.5 percent share.
Samsung is famously outselling Apple in markets such as China while increasing its share in the U.S. at the same time, leading to the rapid growth in the company's chip requirements.
Global chip sales fell 3 percent last year to $297.6 billion, according to Gartner. According to the data, six of the top 10 chip purchasers reduced spending on it last year because of the general slowdown in computer sales.
"In addition to a weak macroeconomic situation, a dramatic change in consumer demand contributed to a reduction in semiconductor demand in 2012," IDC research analyst Masatsune Yamaji wrote in the report. "The PC market still represented the largest sector for chip demand, but desktop and mobile PCs did not sell well, as consumers' interest shifted to new mobile computing devices like smartphones and media tablets."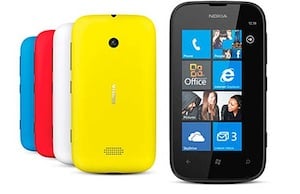 Hewlett-Packard (NYSE:HPQ), which came in third overall, cut semiconductor expenditures by 13 percent to $14 billion, while fourth-placed Dell (NASDAQ:DELL) reduced spending by a similar percentage to $8.6 billion. Sony (NYSE:SNE) was up in fifth place from eighth after growing spending 1.9 percent to $7.9 billion. Nokia (NYSE:NKE) fell the most, with demand from the Finnish handset maker dropping as much as 42.6 percent to 1.7 percent of the global share at $5 billion.
Don't Miss: Gene Munster: TV Will Fix Apple's Problems.