Apple May Raise Dividend and 4 Other Hot Stocks
Apple (NASDAQ:AAPL): JPMorgan's (NYSE:JPM) Mark Moskowitz left a significant note for investors today, in which he believes that Apple is on the verge of a major leveraging up, and may take on as much as $15 billion to $20 billion in debt, while bumping the dividend yield to 4 percent. Moskowitz also anticipates earnings to be beat this quarter, as he defends the stock which fell below $400 on Wednesday for the first time since December of 2011.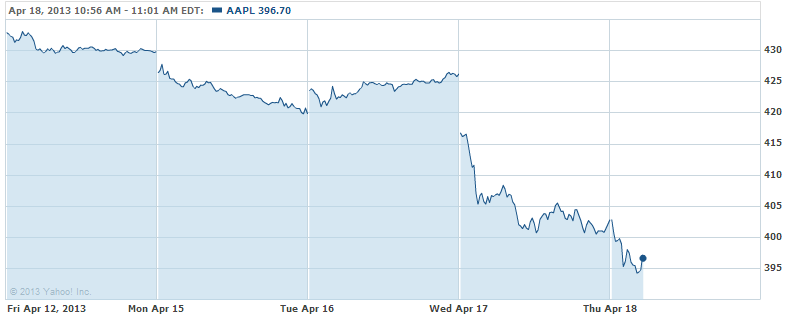 The Gap Inc. (NYSE:GPS): Gap held an investor meeting on Wednesday, in which the company plotted out its next phase for growth. Investors like Citi (NYSE:C) reportedly were quite impressed with the company's plans, which is doubly impressive given the company's stock has grown 37 percent over the last year, the best performance from an apparel firm on the S&P. Most of the company's expansion plans center around growing internationally, including franchising of new Old Navy stores abroad, and company-owned Old Navy and Banana Republic stores in China. [Gap's] strategic goals aligned with our view of future of retail and if execution is good, (per-share profit) growth will be encouraging, said Citigroup analyst Oliver Chen. Theres a shrewd evolution taking place.

Royal Dutch Shell (NYSE:RDSA): Shell's Nigerian subsidiary SPDC has lifted its declaration of force majeure ongas supplies to Nigeria Liquefied Natural Gas, but has enforced a measure of force majeureBonny Light Crude exports, as a result of the shutdown of the Nembe Creek trunkline. The closing has deferred production of some 150,000 barrels of crude. A spokesman attributed the closing to crude oil thieves, who siphon oil from the trunkline. The company is taking the opportunity to fix leaks, and remove "theft connections."

BHP Billiton (NYSE:BHP): Winds of change are sweeping BHP, as new CEO AndrewMackenzie begins to enforce a more frugal pay scale on the company, and shuffles some of the top-ranking execs in efforts to reinvigorate the company. BHP has demoted some notable ranking officers in the company, to stem the compensation being doled out to the company's top tier. MacKenzie will personally make about a quarter less than his predecessor Marius Kloppers, who is stepping down.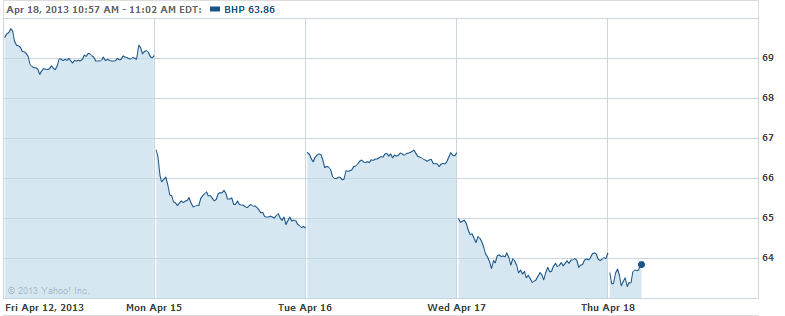 Diageo (NYSE:DEO): Third quarter sales grew 7.3 percent for the company, while organic sales grew 4 percent. Volume slipped 1 percent, although the company was able to take advantage of acquisitions and forex fluctuations. Weaknesses in Brazil, South Korea and Nigeria were offset by strong performance in North America. "Given our market positions and geographic diversity," said CEO Paul Walsh, "we remain confident that Diageos performance continues to be in line with our medium term guidance."

Don't Miss: What Are Amazons Plans For Apples Siri Look-Alike?