Apple Named Most Valuable Brand, Ballmer's Last Microsoft Meeting: Market Recap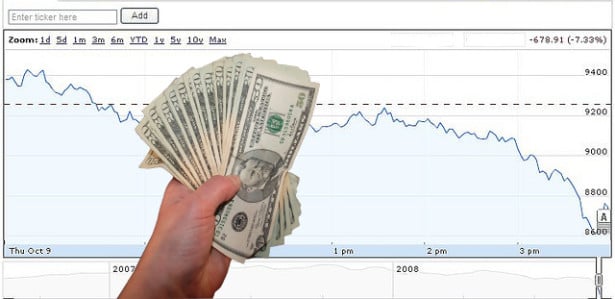 U.S. stocks fell today as it appears as though the government is headed for a shutdown tomorrow. Lawmakers can't seem to agree on the Affordable Care Act, controversy around which has lead to the impasse. They have until midnight to come up with some kind of emergency legislation or 800,000 government employees will be placed on unpaid leave beginning tomorrow, which starts the 2014 fiscal year.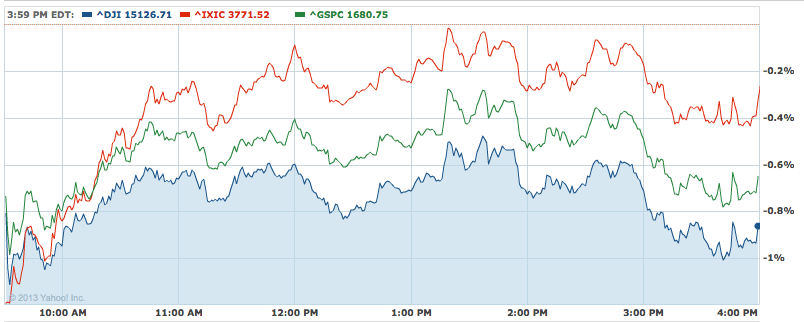 Gold: -0.78% to $1,328.70 per ounce Oil: -0.44% to $102.42 per barrel U.S. 10-Year: -0.15 to 2.62%
Budget Impasse: Who Will Go Down With the Ship?: The countdown clocks have taken center stage. Less than 24 hours remain until the new fiscal year starts at midnight on October 1, and if policymakers fail to pass a short-term funding measure — known as a continuing resolution — non-essential government operations will begin shutting down come Tuesday morning, and the atmosphere is thick with pessimism.
Policy Uncertainty: How Will Big Banks Weather the Storm?: Major financial institutions in the United States are gearing up to report a rough third quarter, according to revised analyst profit estimates. Revenue from fixed-income trading declined as much as 30 percent on the year thanks in part to a seasonal slowdown that was compounded by both monetary and fiscal policy uncertainty.
Can the Fed's New Magic Tool Bring Market Stability?: In his September speech, Dudley outlined a new tool that the New York Fed will be testing in the coming weeks that is designed to address the issue of how to drain cash from the financial system when it becomes appropriate to do so. The tool — a fixed-rate, full allotment overnight reverse repo facility — will allow counter-parties such as banks and large money market funds to deposit cash at the Fed overnight and earn a modest interest rate on it.
Here's your cheat sheet to today's top stock stories:
Apple (NASDAQ:AAPL) has been named the most valuable brand in the world in 2013 by brand consulting company Interbrand. According to Interbrand, Apple's estimated brand value is $98.3 billion, 28 percent more than its $76.5 billion value in 2012. Interbrand has been compiling its Best Global Brands report since 2000, and Apple's brand value has been skyrocketing over the past several years.
Microsoft (NASDAQ:MSFT) current CEO Steve Ballmer is on his way out, and it's becoming increasingly evident that he is going to go kicking and screaming — maybe not so much the former yet, but definitely the latter. It wouldn't be a real companywide Microsoft meeting if Balmer didn't throw some jabs, so he made sure to, according to Apple Insider, as he addressed Microsoft's 13,000 full-time employees for what will likely be the last time.
Twitter continues to march toward its highly anticipated initial public offering. Sources tell Quartz that the social media platform could make its S-1 filing public as early as this week, a move that could prime the investment pump with critical data about the company's business model and financial condition.
BlackBerry (NASDAQ:BBRY) has agreed to pay Fairfax a $157 million breakup fee for a tentative takeover offer, according to Bloomberg. Such a deal could encourage Fairfax to move more quickly to obtain financing and confirm its buyout of BlackBerry, but it could also deter rival bidders — and that's a risk BlackBerry is willing to take.
Berkshire Hathaway (NYSE:BRKA)(NYSE:BRKB) Chairman and CEO Warren Buffett is once again queued up to make billions off of a white-knight investment he made in a major financial institution during the late-2000s crisis. The firm is expected to receive approximately 13.2 million shares of Goldman Sachs (NYSE:GS) stock worth about $2 billion through the exercise of warrants acquired in return for a $5 billion loan made to the bank in 2008.
Dish Network (NASDAQ:DISH) and Walt Disney Co. (NYSE:DIS) have until Monday night to work out a deal regarding retransmission fees or Dish customers could lose access to Disney's programming, which includes popular networks ABC and ESPN, according to The Wall Street Journal.
Follow Jacqueline on Twitter @Jacqui_WSCS
Don't Miss: Is This a Sneak Peek of Apple's iPad 5?