Apple Negotiates With NTT DoCoMo and 4 Hot Stocks to Follow
Bank of America (NYSE:BAC): Current Price: $11.62
Watchdog group Public Citizen and a U.S. senator have requested an investigation into Bank of America's settlement with mortgage giant Fannie Mae in a dispute that involves $1.4 trillion worth in loans. On Monday, the bank and Fannie Mae announced that they reached an accord having Bank of America pay $3.6 billion in cash and buy back $6.75 billion in loans from Fannie Mae. The two were battling over a large pool of loans that were sold to Fannie by Countrywide Financial Corp. between 2000 and 2008. The subprime lender was purchased by Bank of America in 2008.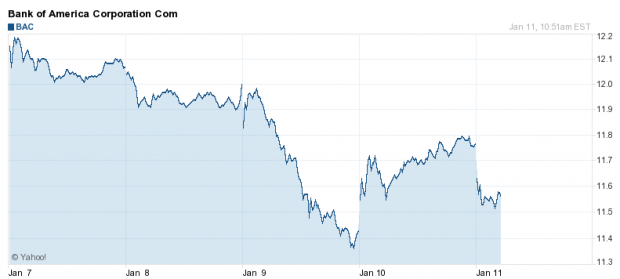 Start 2013 better than ever by saving time and making money with your Limited Time Offer for our highly-acclaimed Stock Picker Newsletter. Get our fresh Feature Stock Pick now!
NTT DoCoMo (
NYSE:DCM
) will likely add Apple's (
NASDAQ:AAPL
) iPhone to its existing lineup if the companies find it possible to meet a 'mutually beneficial arrangement,' according to Apple Insider. Citing the Nikkan Kogyo Shimbun, NTT DoCoMo president Katoru Kato will be able to sell a predetermined amount of iPhones and is currently in preliminary negotiations to include Apple.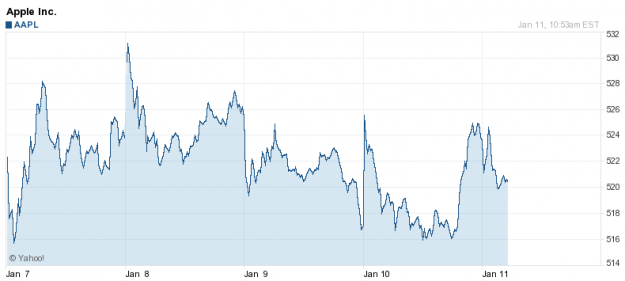 Facebook, Inc. (NASDAQ:FB): Current Price: $31.61
The company's new addition, Instagram, lost almost half of its daily users due to the uproar regarding policy changes last month, according to the New York Post. New data from AppStats shows that Instgram's active daily users saw a decline to 8.42 million during the week versus 16.35 million last month.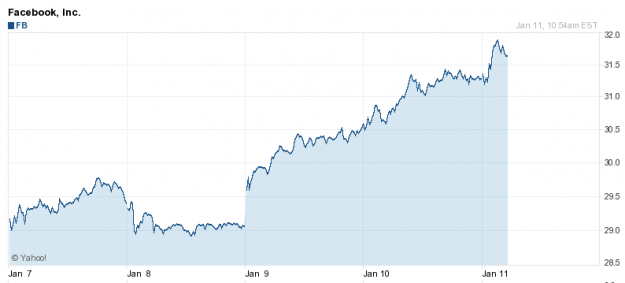 Are these stocks a buy or sell? Let us help you decide. Check out our Wall St. Cheat Sheet Stock Picker Newsletter now >>
AT&T, Inc. (NYSE:T): Current Price: $34.20
Both AT&T and Texas Instruments rank among the global companies that have gotten the majority of patents during 2012, claims data that was published today by IFI Claims Patent Services. AT&T Intellectual Property I ranked No. 33 on IFI's list, since it had 886 patents in 2012, a 23 percent jump from the 721 patents it had in 2011 (No. 35).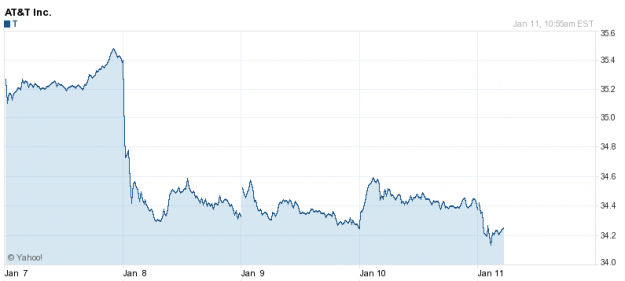 Nokia Corporation (NYSE:NOK): Current Price: $4.54
The company gave the first evidence that people have been purchasing its newest smartphones, which causes investor concern that the company bet on Microsoft Corp.'s software was a strategic blunder. These optimistic remarks come only two weeks prior to its Q4 earnings report, which assisted in sending shares up nearly 19 percent. However, Nokia executives avoided various questions, including whether or not the company will be able to shore up its shrinking cash position. Nokia claimed that brisk sales of its new Lumia phones lifted overall smartphone shipments for the first time in a year, although shipments continue to be far below the levels from a year ago.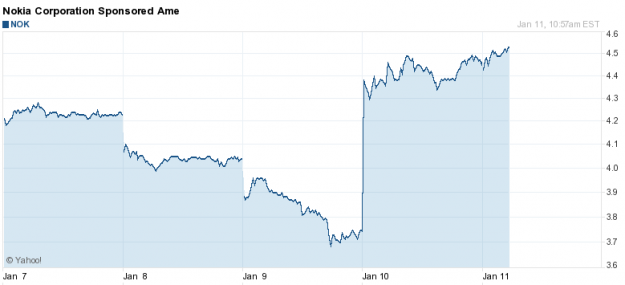 Don't Miss: Apple Can't Escape the PC Bust.