Apple Opposes Icahn's Stock Buyback Proposal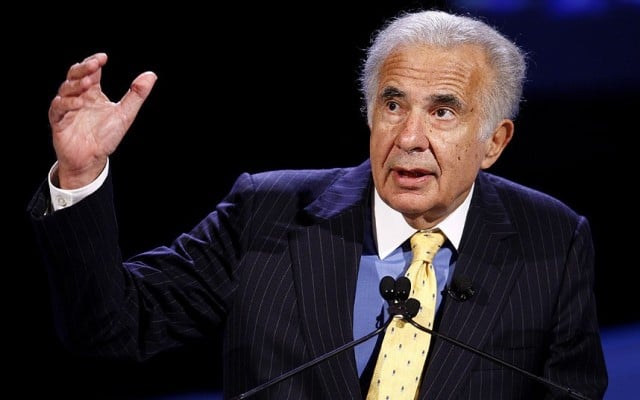 In a preliminary proxy filing submitted to the Securities and Exchange Commission, Apple (NASDAQ:AAPL) has officially come out against billionaire investor Carl Icahn's proposal to expand the company's share buyback program, reports CultofMac. Icahn has long been pushing the California-based company to return additional cash to shareholders and previously told CNBC that he would consider a proxy fight if Apple doesn't act on his proposal.
In an open letter written to CEO Tim Cook earlier this year, Icahn had proposed that Apple repurchase $150 billion worth of its stock. However, the preliminary proxy filing revealed that the activist investor has lowered the proposed amount to $50 billion. As noted in the filing, Icahn's proposal will be submitted on his behalf by High River Limited Partnership.
Proposal No. 10 requests "that Apple commit to completing not less than $50 billion of share repurchases during Apple's fiscal year ending September 27, 2014 (and increase the amount authorized for share repurchases under its Capital Return Program accordingly)."
However, Apple recommended that the company's shareholders vote against the proposal. "While the Board and management oppose this shareholder proposal, they are fully committed to returning cash to shareholders," stated Apple. "The Board and management team believe that capital should be returned to shareholders on an efficient and sustained basis, and that the evaluation of capital return should be performed regularly and carefully with the best long-term interest of the business and shareholders in mind."
Apple also stated that it has already "demonstrated a strong commitment to returning capital to shareholders over the past two years." In April, Apple increased its share repurchase program by $60 billion and raised the dividend it pays to shareholders. The California-based company noted that it "is one of the largest dividend payers in the world and has the largest share repurchase authorization in history."
For these reasons, Apple "believes that the Company's management team and Board are in the best position to determine what is in the best long-term interest of the Company's business and recommends a vote AGAINST this proposal." As noted in the filing, Icahn's proposal requires an affirmative vote from the majority of shares in order to be approved.
Apple's board and management are not the only people to oppose Icahn's share buyback proposal. Calpers' (California Public Employees' Retirement System) head of corporate governance Anne Simpson recently told Bloomberg that, "We are uncomfortable with a raider coming into a company with a proposal to disgorge cash. Carl Icahn is a Johnny come lately." Similarly, Berkshire Hathaway's (NYSE:BRKA) (NYSE:BRKB) Warren Buffett told CNBC earlier this year that, "I think the Apple management and directors have done a pretty darn good job of running the company, so my vote would be with them."
Apple's shareholder meeting is scheduled to take place on February 28 in Cupertino, California. Here's how Apple traded on Friday.

Follow Nathanael on Twitter (@ArnoldEtan_WSCS)
More from Wall St. Cheat Sheet: