Apple Phones a Rival to Help It Meet iPad Mini Supply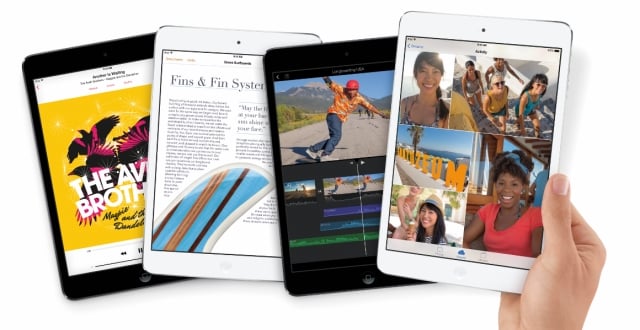 What's with Apple Inc. (NASDAQ:AAPL) and supply shortages?
Sources say that more severe supply constraints are on the horizon for the tech giant, and this time around, they are affecting the iPad mini with Retina display.
During Apple's highly anticipated iPad event on October 22, CEO Tim Cook unveiled the iPad Air and iPad mini with Retina display, promising a November 1 launch date for the first and another date to come shortly after for the mini. Analysts were pleased with the new tablet offerings and Apple's price points, but rumors of more supply shortages are aswirl, and the tech company is even now rumored to be tapping one of its biggest rivals to help it navigate its way out of the constraints.
According to Apple Insider,  Sharp and LG Display, the main manufacturers for the high-resolution 7.9-inch Retina panels, are already facing difficulties meeting production volume goals – and time is running out. Different reports point different fingers, but one source on Wednesday blamed Sharp for the rumored Mini shortage, while another highlighted LG's yield issues and asserted the manufacturer is "not close to full production," Apple Insider reports.
Supply shortages are nothing new for Apple, considering the company already suffered similar difficulties with its iPhone 5S and first-generation iPad mini, but as the lucrative holiday season approaches and the company registers more demand for its next-generation tablet, it is clear that the Cupertino, California-based company has to act, and it has to act fast.
And acting fast it is: Apple Insider reports that Apple has ordered an unknown number of displays from Samsung Electronics (SSNLF.PK), and the partnership could continue until supply needs are met. The Korean tech company is known for its capability in manufacturing Retina quality panels, and it is clear that in times like these, Apple is willing to look past the competition and do anything it can to meet its production goals.
Of course, everything continues to remain in speculation, as Apple has yet to confirm the rumors, but Cook did maintain in his quarterly earnings call on Monday that it is "unclear" whether his company will have enough supply for the next quarter.
Apple still cannot forecast just how strong a demand the iPad mini will receive, but the tech giant's carriers are already worried, especially Japan's largest wireless provider, NTT DoCoMo, the source that Apple Insider identifies as the first to report on the supply issues.
Don't Miss: Half of All Vehicles May Have This Apple Feature by 2018.