Apple Pounds Critics into Applesauce
It has been a wild month for Apple Inc. (NASDAQ:AAPL). After hitting an all-time intra-day high of $644 on April 10, shares declined to as low as $555 on Tuesday. Analysts became cautious on the tech giant after disappointing iPhone activations were announced by Verizon (NYSE:VZ) and AT&T (NYSE:T). However, those concerns were quickly laid to rest after Apple reported its fiscal second-quarter financial results late Tuesday.
Last week, Verizon announced that it sold 3.2 million iPhones in the first quarter of 2012, representing a 26 percent decrease from the 4.3 million iPhones activated during the last three months of 2011. Hours before Apple released its earnings report, AT&T added to iPhone concerns by announcing it sold 4.3 million iPhones during the first quarter, a 43 percent decline from the 7.6 million sold in the previous holiday quarter. In other terms, between the two largest U.S. carriers, iPhone activations dropped 37 percent on a quarter over quarter basis.
After Tuesday's closing bell though, Apple reported a profit of $11.6 billion ($12.30 per share) for the March quarter, nearly doubling profits from the previous year-ago quarter. Apple also smashed expectations on iPhone sales. The company sold 35.1 million iPhones in the quarter, representing an 88 percent surge over the same quarter last year. Analysts were expecting around 28-33 million units sold.  "We're thrilled with sales of over 35 million iPhones and almost 12 million iPads in the March quarter," Apple chief executive Tim Cook said in a statement. "The new iPad is off to a great start, and across the year you're going to see a lot more of the kind of innovation that only Apple can deliver."
Don't Miss: Here's How Apple is Winning the Web
Tim Cook also said it was an incredible three months in China, which produced almost $8 billion in revenue, up threefold year-over-year. Analysts not crediting Apple with strong international growth is one of the main reasons why Apple surprised to the upside on its earnings release. "It is mind-boggling that we can do this well," explained Cook on the earnings call. Apple's revenue in China for the first half of the fiscal year totaled $12.4 billion, compared to $13.3 billion it made in the entire previous fiscal year. China growth has been fueled by new deals with China Telecom (NYSE:CHA) and China Unicom (NYSE:CHU).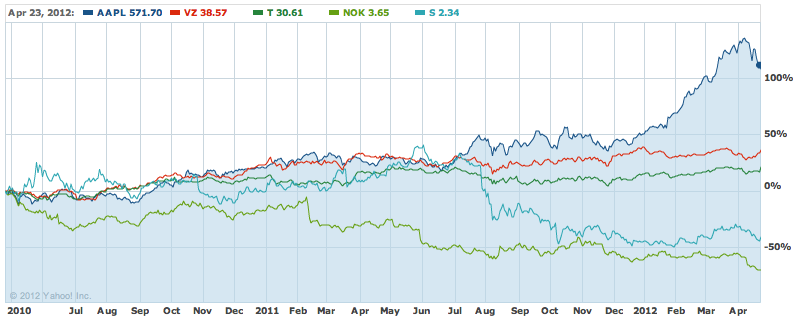 As the two-year chart above shows, Apple has been the best way to play the growing mobile market. While Verizon and AT&T have gained modestly, Apple shares have surged more than 130 percent. Meanwhile, Sprint Nextel Corp. (NYSE:S) and Nokia (NYSE:NOK) have greatly underperformed, declining 40 percent and 68 percent, respectively. Going forward, Apple still has upside with more growth in China and the upcoming iPhone 5, rumored to be released in the fall. If Apple expands its product line into China Mobile (NYSE:CHL), China's largest carrier, it could provide the next boost in the international growth story. "The main challenge for Apple is to penetrate China Mobile's 600 million subscribers. The numbers look pretty good now, but would be much better with China Mobile," said Nomura analyst Huang Leping, according to Bloomberg.
Following the impressive financial results, several firms raised their price targets on Apple shares. Canaccord Genuity analyst Michael Walkley reaffirmed his Buy rating on Apple and raised his price target to $775 from $740. Sterne Agee also increased its price target to $780 from $750. Both firms cited strong international growth. Topeka Capital, which made headlines previously by placing a price target of $1,000.01 on shares, raised its target on Apple shares to $1,111.
Investor Insight: Apple: We're Unstoppable!