Apple Presses for Google Compliance and 3 Tech Titans on the Move
Apple Inc. (NASDAQ:AAPL): Current Price: $459.32
Apple is requesting that a U.S. District Court judge force Google to comply with a subpoena on data the iPhone maker says will aid its case against Motorola. Earlier in the week, Apple filed its Motion to Compel Compliance with a Subpoena in the U.S. District Court for the Northern District of California, San Jose Division, against Google.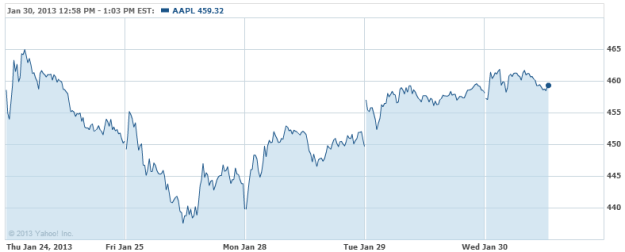 Google Inc. (NASDAQ:GOOG): Current Price: $757.05
On Tuesday, Google revised its Maps application to add information for North Korea, which names streets to marks the outlines of prison camps, and this is starting to create a national map that has not been specific since Google started to provide maps online and for mobile devices.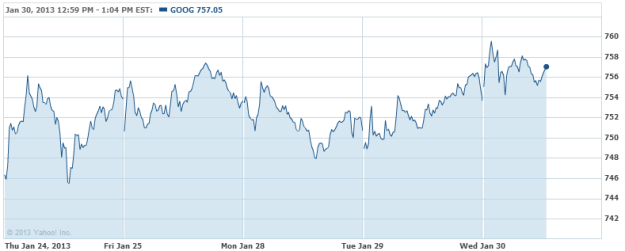 Are these stocks a buy or sell? Let us help you decide. Check out our Stock Picker Newsletter now.
Microsoft Corporation (NASDAQ:MSFT): Current Price: $28.05
Microsoft revealed its European and UK pricing for its Office 2013 and Office 365 Home Premium, but the new business prices have not yet been announced. UK Customers will be able to purchase the subscription-based Office 365 Home Premium for five PCs or Macs for79.99 GBP per year or 7.99 GBP per month, which includes 20GB SkyDrive cloud storage and 60 minutes of Skype calls per month.

Intel Corporation (NASDAQ:INTC): Current Price: $21.40
The company has ceased the development of and support for its NAS Performance Toolkit, an application that measuring the performance of small network-attached storage systems. However the software is to continue, since Chipzilla has released the source code for the tool. The NASPT, as it was referred to by Intel, was not the kind of tool that is to be used to do serious testing of an enterprise-scale NAS, due to the fact that it was unable to test storage devices under application loads.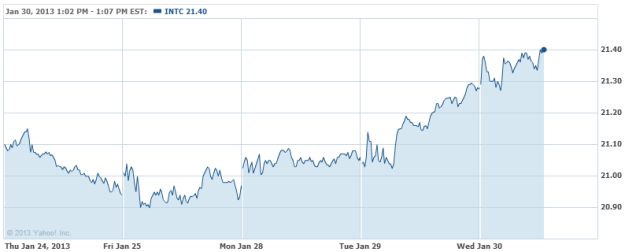 Don't Miss: Do iPhone Users Pay More to Carriers?