Apple Product Theft May Be Related to Target Data Hack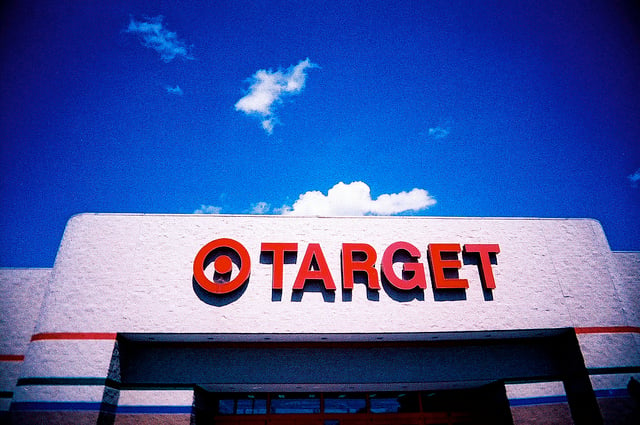 Last week, Target (NYSE:TGT) confirmed that hackers had stolen data from approximately 40 million credit and debit accounts that were used at U.S. Target stores between November 27 and December 15. The retail giant noted that it is working closely with law enforcement and financial institutions as they conduct an ongoing investigation of the data breach. As reported by the New York Post, a recent arrest made in New York may give those investigators a lead in the case.
According to the New York Post, the NYPD recently uncovered over $20,000 worth of Apple (NASDAQ:AAPL) products that had been fraudulently purchased from various Target stores. The items were bought with gift cards that had been purchased with stolen credit cards. The haul included 17 iPad Airs, 11 iPod touches, and 14 iPad minis.
The NYPD Financial Crimes Unit is currently investigating any possible links between the stolen Apple merchandise and the recent theft of customers' debit and credit information from Target, reports the New York Post. According to security expert Brian Krebs via American Banker, the Target data thieves are now selling the stolen debit and credit card account information on various underground websites. In this sense, even if the recently arrested suspects were not directly involved in the Target hack, they may have been using stolen account information obtained in the data breach.
As noted by the New York Post, the stolen Apple products were found by chance after the suspects were pulled over for running a red light. Their vehicle ended up being searched when the driver accidentally revealed a loaded handgun in the glove compartment. The NYPD charged the suspects with possession of stolen property and a gun.
"Target's first priority is preserving the trust of our guests and we have moved swiftly to address this issue, so guests can shop with confidence. We regret any inconvenience this may cause," stated Target Chairman, President and CEO Gregg Steinhafel. "We take this matter very seriously and are working with law enforcement to bring those responsible to justice."
Unfortunately for Target and its customers, the data breach could not come at a more inopportune time. Many Target customers are in the midst of their holiday shopping, and the retail giant will likely see a downturn in sales due to the negative publicity. Target has so far been reaping the rewards of its reseller partnership with Apple this holiday shopping season. Target previously reported that the iPad Air was a particularly "hot item" during the Black Friday shopping weekend.
Here's how Apple and Target traded on Friday.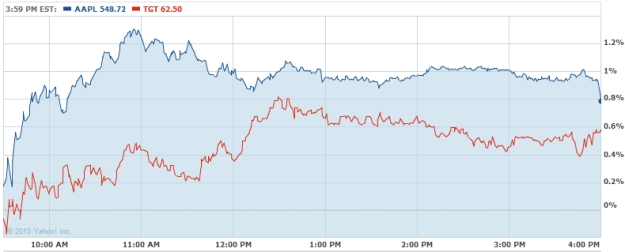 Follow Nathanael on Twitter (@ArnoldEtan_WSCS)
More from Wall St. Cheat Sheet: