Apple Promotes iOS7 For Business and 2 More Heavily Traded Stocks To Follow
Apple (NASDAQ:AAPL): Current price $398.07
Apple's own Web site now features a new page promoting the benefits of iOS 7 for business. The company has said that he upcoming software refresh is "the most significant update since the original iPhone." It forms part of what should be a major drive by Apple to make the mobile operating system appeal even more to enterprise users and decision makers. The firm wants big businesses to know that the soon-to-be-released updated OS will contain more advanced ways to deploy and protect iPhones and iPads in the enterprise, along with providing an enhanced experience for end users.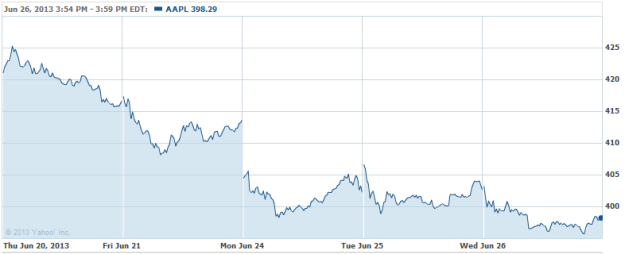 AT&T (NYSE:T): Current price $35.33
The giant telecom said on Wednesday that it will introduce Digital Life in Portland, Oregon together with four other markets: Boston, Cleveland, Detroit, and San Antonio. AT&T Digital Life can make customers' lives easier by facilitating the management of their homes. Digital Life provides convenience, security, and peace of mind, in a customizable and easy-friendly experience from smartphones, tablets, or PCs. Starting on Friday, customers in these five new markets may receive a live demo and also purchase AT&T Digital Life in company-owned retail stores. Since April, AT&T has debuted Digital Life in 22 markets, and intends to introduce the service in as many as 50 markets by the end of this year.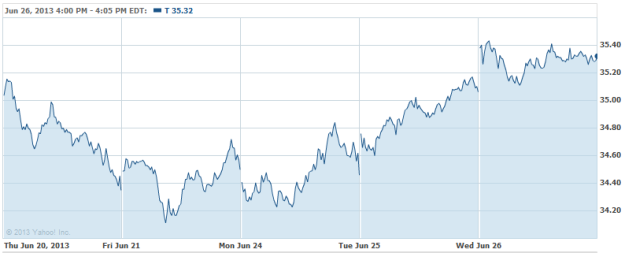 Brocade Communications Systems (NASDAQ: BRCD): Current price $5.65
Brocade has announced that it will speak at the Hadoop Summit in San Jose, where it will discuss the essential role that Ethernet fabrics play in optimizing network performance and management, as part of Big Data deployments. The company has obtained this experience by working with top systems and information analytics firms to provide best-of-breed, fully integrated hardware and software networking solutions.  Brocade provides a comprehensive and versatile networking portfolio created for the unique requirements of Big Data environments.