Apple Reaps Benefits of Smartphone Upgrade Trend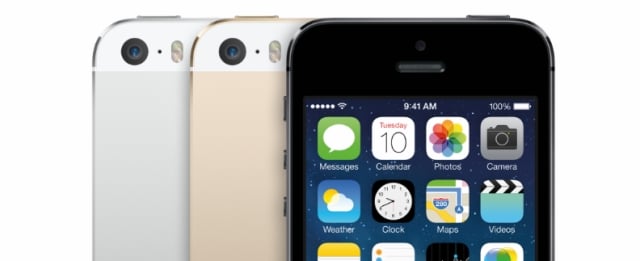 A new study found that Apple (NASDAQ:AAPL) is a major beneficiary of American consumers' tendency to regularly upgrade their smartphones, reports MarketWatch. According to a SellCell.com study cited by MarketWatch, American consumers spend approximately $5.4 billion a year on iPhone upgrades out of a total of $11 billion spent annually on smartphone upgrades. Apple held a 40.6 percent share of the U.S. smartphone market during the three-month period ending in October 2013, according to the latest data from comScore.
Not surprisingly, Apple's ability to charge premium prices for its devices has allowed the California-based company to make more money from upgrades than other smartphone companies. According to SellCell.com, the average iPhone upgrade costs $151, which is $21 more than the average price to upgrade a smartphone.
"We're a nation of mobile-phone lovers — obsessed with getting a shiny new device," SellCell.com spokesperson Craig Timmins told MarketWatch. SellCell.com is a site that aggregates smartphone trade-in deals from over 20 other companies. Various models of Apple's iPhone currently hold the top three spots on the trade-in site's list of most popular traded phones.
American consumers' obsession with acquiring the latest smartphone tech does not appear to be diminishing. According to Gazelle.com data cited by MarketWatch, iPhone trade-ins have increased 74 percent this year, while Samsung (SSNLF.PK) trade-ins have jumped 114 percent. The growing global market for used iPhones has led Apple to initiate a worldwide expansion of its Reuse and Recycling Program. A recently posted job listing on Apple's job site revealed that the company is seeking a manager to implement and oversee Reuse and Recycling Programs in various emerging markets.
Many carriers have helped fuel the smartphone upgrade trend by making it even easier for consumers to upgrade through special offers. According to a survey conducted by SellCell.com and cited by MarketWatch, 25 percent of respondents indicated that early upgrade programs offered by AT&T (NYSE:T), T-Mobile (NYSE:TMUS), and Verizon (NYSE:VZ) make them more likely to upgrade sooner. T-Mobile, a carrier that has led the industry's move away from traditional 2-year service contracts, even offers subscribers the option to get a new phone every six months through its "JUMP" upgrade plan.
Apple will likely continue to be the main beneficiary of this trend as it steadily increases its overall share of the U.S. smartphone market. According to renowned mobile industry analyst Horace Dediu, Apple's iPhone will account for 68 percent of the entire U.S. smartphone market by 2017, when the market is expected to reach saturation.
Here's how Apple has traded over the past five sessions.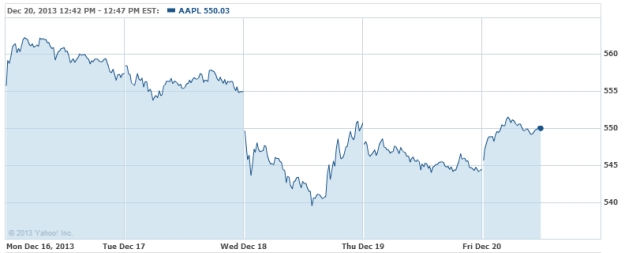 Follow Nathanael on Twitter (@ArnoldEtan_WSCS)
More from Wall St. Cheat Sheet: