Apple Recap: a Show, a Refresher, and Jobs on the Silver Screen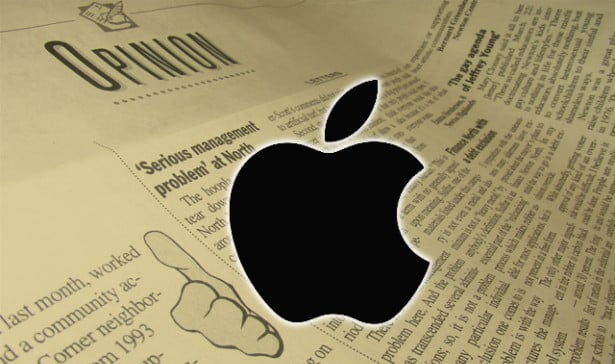 Apple (NASDAQ:AAPL) shares began the week on a tear, outperforming the broader market. The iPhone maker's stock closed up $12.91, or 2.84 percent, at $467.92 on Monday. Here's a cheat sheet to today's top Apple stories:
Is Apple Getting Ready to Put on a Show?
With its fiscal third quarter earnings report, Apple reported revenue of $35.3 billion and guided fourth-quarter revenue in a range between $34 and $37 billion. The results were actually a surprise beat: on average, analysts were expecting revenue of about $35.1 billion, which was downwardly revised several times during the quarter "to reflect demand trends across Apple's portfolio and the timing of new product launches", as Topeka Capital analyst Brian White put it.
White's comment is at the heart of the conversation surrounding Apple right now. The company hasn't released a new iPhone since the iPhone 5 was announced on September 12, 2012. Meanwhile, Samsung (SSNLF.PK) has pretty much spammed the market with devices running Google's (NASDAQ:GOOG) Android OS… (Read more.)
5 Things Everyone Should Know About Apple
Even some grizzled Google fans would admit: it's hard not to have a little respect for Apple. In less than 40 years the company went from being the crazy ambition of Steve Wozniak, Steve Jobs, and Ronald Wayne to one of the largest consumer electronics companies on the planet. Apple products have become cultural icons, even status symbols, and the company has become something of a siren for investors.
The stock, at about $454 as of August 11, has seen better days. In September of 2012, shares were up 74 percent on the year and tripped over $700 as investors ran full speed ahead on the premise that Apple, with multiple quarters of earnings and revenue growth between 40 and 120 percent, was unstoppable. In hindsight, it's obvious that that kind of growth was unsustainable and the company would run out of steam… (Read more.)
What Does Silver-Screen Steve Jobs Say About Apple?
Steve Jobs founded Apple (NASDAQ:AAPL) in April 1976. The rest, to put it one way, is history. The Apple I went on sale in July of that year  and 37 years later, the company has a market value of over $410 billion, the largest of any publicly-traded company in the U.S., even superseding international oil and gas titan Exxon Mobil (NYSE:XOM).
By this point, Apple's rags-to-riches story has become ubiquitous and its founders — Jobs, along with the legendary Steve Wozniak — have assumed a sort of mythic mantle of cultural relevance. They have been credited with a revolution in computer technology, and their innovations have defined the current technological landscape. Even before his passing in 2011, Jobs in particular was hailed as a once-in-a-generation visionary… (Read more.)