Apple Recap: Carl Icahn, $500 Glory, and the iCahn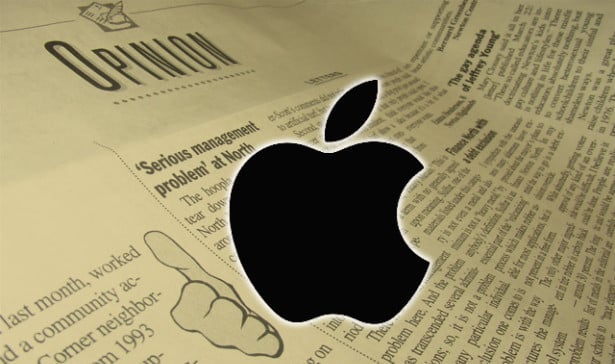 Shares of Apple's (NASDAQ:AAPL) struggling stock edged past $500 just after 12 p.m. on Wednesday in New York, a level they have not traded at since January 23. But shares did not stay above $500 for long and they closed at $498.50, which was still a gain of $8.93, or 1.82 percent. Here's a cheat sheet to today's top Apple stories:
Apple Touches $500, But Can Icahn-Fueled Gains Last?
Prior to infamous activist investor Carl Icahn announced on Twitter that his firm, Icahn Enterprises (NYSE:IEP), had taken a "large position" in the world's largest publicly traded company, whose stock he referred to as "undervalued," Apple shares had lost more than 12 percent of their value so far this year. Wall Street appreciated his interest. Apple shares closed nearly 5 percent higher on heavy volume and posted their second best day of the year.
While the excitement over Icahn's investment added to the growing momentum shares of Apple have begun to exhibit, the recent activity in Apple's stock is nowhere near enough to undo the massive selloff that began in late September… (Read more.)
Can Carl Icahn Push Apple Stock Higher?
Apple stock been exploding higher over the last several years. The stock is currently breaking above a base established in the last few months. Analyzing the price trend and its strength can be done using key simple moving averages. What are the key moving averages? The 50-day (pink), 100-day (blue), and 200-day (yellow) simple moving averages. As seen in the daily price chart below, Apple is trading above its rising key averages which signal neutral to bullish price action in the near-term… (Read more.)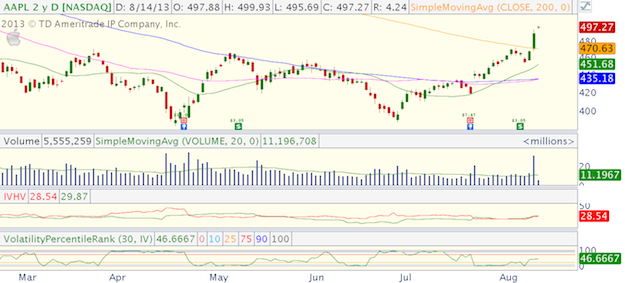 (Source: Thinkorswim)
5 Reasons Why Apple Investors Should Welcome the iCahn
On Tuesday, billionaire investor Carl Icahn announced via Twitter that his fund holds a "large position" in the world's largest publicly traded company. He believes Apple is "extremely undervalued," and had a "nice conversation" with chief executive officer Tim Cook about launching a larger buyback immediately. The activist investor did not disclose the amount of his investment, but the amount is believed to be around $1 billion. In a statement, Apple said, "We appreciate the interest and investment of all our shareholders. Tim had a very positive conversation with Mr. Icahn today."
Wall Street also appreciated the interest. Apple shares closed nearly 5 percent higher on heavy volume, and posted their second best day of the year. Since hitting its 52-week low of $385.10 on April 19, Apple is up about 27 percent — but still down 8 percent for the year. Most Apple investors appear to be very welcoming of Icahn. The investor has been on a roll this year and is considered to have the Midas Touch. Here's a look at five Icahn stocks that have been golden this year… (Read more.)