Apple Recap: China Struggles, Undervalued Stock, and iPad Shipments
After tracing a path for several days that came enticing close to its record high but never quite took it there, the Standard & Poor's 500-stock index broke through its previous record high of 1,565.15, set on October 9, 2007. But the gains enjoyed by the U.S. equity markets in general did not carry Apple (NASDAQ:AAPL). Thanks to ongoing charges that without the guidance of Steve Jobs the company will have difficulties with innovation and that rising competition from Samsung (SSNLF.PK) will hurt profitability, shares of the iPhone maker ended the day in the red. The stock closed down $9.42, or 2.08 percent, at $442.66. Here's a cheat sheet to today's top Apple stories:
Are Apple's Struggles in China Just Beginning?
Apple may be surviving the negative attention that Chinese state-run media has been laying on the company, but government criticism indicates that a bigger problem — one that Apple can't avoid — may be on its way. Recently, Apple has been slammed by China Central Television as well as the People's Daily — the Communist Party's main voice in the media. The media outlets criticized Apple for having poor and discriminatory service practices when it came to Chinese customers.
If the Chinese government works against Apple, it could fall behind in the market that's currently led by Samsung and 2 Chinese brands… (Read more.)
Analyst: Apple's Stock Is Undervalued
Concerns for Apple's future have been woven into a well-worn and often-repeated narrative. Yet, among analysts assessing the company, there is one point in the story where opinions differ; some analysts see a different ending.
While Oppenheimer lowered its price target for shares of Apple on Tuesday and Pacific Crest reiterated a Sector Perform rating on the company's shares on Wednesday, analysts at FBN announced Thursday that the firm decided to retain an Outperform rating and $650 price target on the iPhone maker… (Read more.)
Why Is Apple Cutting iPad Shipments?
According to several DigiTimes sources with supply chain information, Apple may be cutting back its shipments of the iPad Mini, which could be a good signal or a bad omen.
The sources suggested that Apple may drop its shipments of the iPad Mini in April by as much as 20 percent, and the cut could continue throughout the rest of the second quarter. That would bring the total of iPad Mini shipments down to nearly 10 million units for the period ending in June.
Speculations as to the reason behind the lowered shipments has lead to two significant hypotheses… (Read more.)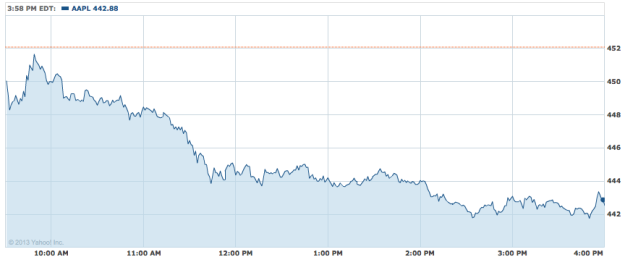 Don't Miss: Is This the iPhone 6?