Apple Recap: Court Battles, Samsung Rivalry, and Goldman Downgrade
The criticism that Apple (NASDAQ:AAPL) has lost its innovative touch has fallen fast and furious on the company recently. While it has long been seen as a company capable of creating one category-defining product after another — and in fact, Apple built its reputation on that type of creativity — analysts have put forward the thesis that founder Steve Jobs' absence can be seen in the company's product pipeline, which is populated by nothing but product refreshes, according to their assessments. Many analysts have cited this change as a reason for the stock's poor performance of late.
However, despite this assessment and the fact that Apple was hit with two more harsh critiques on Tuesday, the iPhone maker managed to end the day in the black — albeit just barely. After posting five consecutive declines, the stock closed up $0.99, or 0.23 percent, at $429.90. Here's a cheat sheet to today's top Apple stories:
Patent Trial: Has Apple Lost an Edge on Samsung?
In the case that never ends between Apple and Samsung (SSNLF.PK), a key patent finding could have U.S. District Judge Lucy Koh pulling the rug out from underneath Apple's claims. The case has already been volatile and dramatic, as Judge Koh first awarded Apple $1.05 billion in damages after a jury found that Samsung violated patents involved in more than 28 different smartphones, and then she removed 14 devices from the ruling, dropping the damages by $450 million.
But, there was some bad news for Apple on the horizon Tuesday morning, as the U.S. Patent and Trademark Office denied the validity of a key patent Apple had used in the case against Samsung… (Read more.)
Is Apple Ditching Samsung For This New Partner?
From the beginning, Samsung has has built Apple's mobile A-series chips, which have been powered iPads and iPhones since 2010. Even the latest chips in the iPhone 5 and fourth-generation iPad are made by the company's Korean competitor. But the end of an era may be approaching. Apple and Samsung's rivalry seems to be driving the iPhone maker to switch to Taiwan Semiconductor Manufacturing Co. (NYSE:TSM) as its chief supplier of mobile device chips… (Read more.)
Goldman Analysts Take A Slice Out Of Apple
If the profile of Apple's stock chart were a roller coaster track, the past five trading days would be one of those vectors that puts your gut into weightlessness. After climbing from below $430 per share on March 12 to more than $460 on March 25, the stock has effectively entered free fall and is down nearly 6.5 percent over the past week. The stock was back below $430 on Monday, but edged higher on Tuesday morning.
Complicating tepid gains on Tuesday is some bearish growling from Goldman Sachs. The firm retains a buy rating on the stock, but reports indicate that Apple has been removed from the much-watched conviction buy list… (Read more.)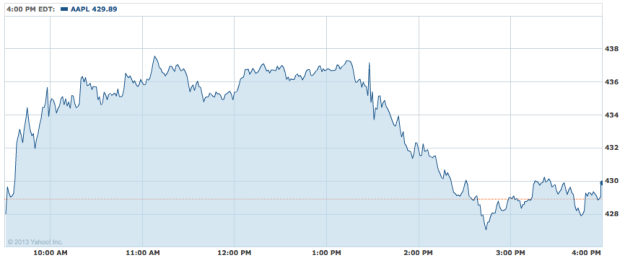 Don't Miss: Does The Growing Gap Between iOS And Android Signal Shrinking iPhone Demand?