Apple Recap: Courtroom Battles, Product Concerns, and Chinese Criticism
Amidst ongoing concerns about its product refresh cycle, criticism from the Chinese government, and a continuing courtroom battle with Samsung (SSNLF.PK), Apple (NASDAQ:AAPL) shares had a rough day. The iPhone maker's stock closed down $9.06, or 1.96 percent, at $452.08. Here's a cheat sheet to today's top Apple stories:
Will Apple Disappoint This Quarter?
Shares of Apple traded as low as $452.14 on Wednesday afternoon — a dip of $9 or 1.95 percent — pushed down by Pacific Crest analyst Andy Hargreaves's warning that the company will most likely miss expectations for the current quarter when it reports results in April and disappoint with its guidance for the June quarter. In his research note, seen by Barron's, he reiterated a Sector Perform rating on the company's shares.
The reason for his pessimism was largely a result of a lower outlook for the iPad.
Hargreaves cut his second fiscal quarter forecast to $41.1 billion and $9.60 per share in net profit from a prior $41.8 billion and $9.89 per share. The average estimate for the company's current quarter is slightly higher, at $42.77 billion and $10.14 per share… (Read more.)
Reputation Wars: Apple 3, Chinese Media 0
"Smash Apple's 'Incomparable' Arrogance," read yet another headline printed by the People's Daily — the Chinese Communist Party's official mouthpiece; it is the third such article published in as many days, noted The Wall Street Journal. Two weeks ago, in its annual corporate malpractice expose, state-run China Central Television accused the company of having discriminatory customer-service practices as well.
There has been no shortage of complaints on China's social media, like Sina Corp's Weibo platform, about the company's customer service and warranty policies, but it is still questionable whether the harsh media attention will bruise Apple's reputation. So far, all the evidence points to the contrary. According to Bloomberg, a survey of 30 people conducted by China Market Research indicated that Chinese consumers still maintain a favorable view of the iPhone maker… (Read more.)
Apple vs Samsung: Did the Court Make a Mistake?
In the ongoing trial between Apple and Samsung over intellectual property rights, the iPhone maker has pushed for a reinstatement of the damages for two of Samsung's devices that a jury determined violated Apple-held patents, but it may be tricky to get.
The case, which was ruled on in August, awarded Apple $1.05 billion in damages, but U.S. District Judge Lucy Koh overturned a portion of the jury's ruling, bringing the damages down by $450.5 million. It's believed that Samsung is seeking to further appeal the court decision and has requested a partial final ruling that could then be appealed… (Read more.)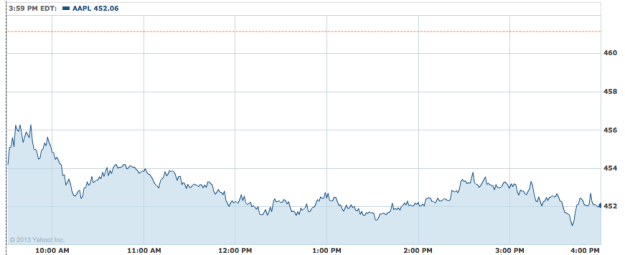 Don't Miss: Apple vs Samsung: Did the Court Make a Mistake?