Apple Recap: iPhone 5 Cuts, Gloomy EPS Predictions, Some Damage Repair
Apple (NASDAQ:AAPL) started this week on the worst possible note, dropping below $500 during premarket trading on Monday after several news reports said the company had cut back on orders of iPhone 5 components because sales of the device had been below expectations this quarter. It improved a little as the day went on, but still suffered pretty badly by closing 3.57 percent down at $501.75, its lowest level since February 15, 2012. Here is a cheat sheet to the day's main stories for the company:
Should you buy or sell Apple's stock ahead of earnings in a few days? Our 20-page proprietary analysis will help you save time and make money. Click here to get your SPECIAL REPORT now.
iPhone 5 Flop Show?
The Nikkei newswire as well as The Wall Street Journal said Apple had cut productions orders for LCD screens at Japan Display, Sharp, and LG Display (NYSE:LPL) by half from an initial total of 65 million for the January to March quarter. Orders for other iPhone components, including processors, had also been cut, the reports added, because sales of the iPhone 5, which was released in September, have reportedly not been as strong as Apple had anticipated…
…apart from Samsung (SSNLF.PK), its single biggest rival, Apple has also faced strong competition from other Google (NASDAQ:GOOG) Android manufacturers… (Read more)
Adding to the Gloom
BTIG analyst Walter Piecyk added to the gloom by writing in a research note that Apple may register its first earnings-per-share decline in a decade this quarter despite an expected growth in revenue because a compressed product cycle and squeezed profit margins had hurt the company. According to Piecyk, Apple's attempts to shorten its product cycle had misfired and instead led to its infamous supply chain constraints and a drop in the stock price. He also cut gross-margin estimates for the last quarter and for the full year, as well as his full-year earnings per share estimate. Piecyk reiterated his Neutral rating on the iPhone maker's stock… (Read more)
Start 2013 better than ever by saving time and making money with your Limited Time Offer for our highly-acclaimed Stock Picker Newsletter. Click here for our fresh Feature Stock Pick now!
Bulls to the Rescue
But with the stock plunging, the company's bulls got into damage-repair mode. JPMorgan's Mark Moskowitz wrote in note to clients that the latest news reports were nothing more than noise and that the sell-off that followed was overdone. Moskowitz reiterated a previous estimate of Apple having sold 48 million iPhones in the last quarter and predicted sales of 45 million this quarter. The analyst added that the order cuts may actually be a result of improving supplies of the smartphone, which would imply that gross margins were on the rebound… (Read more)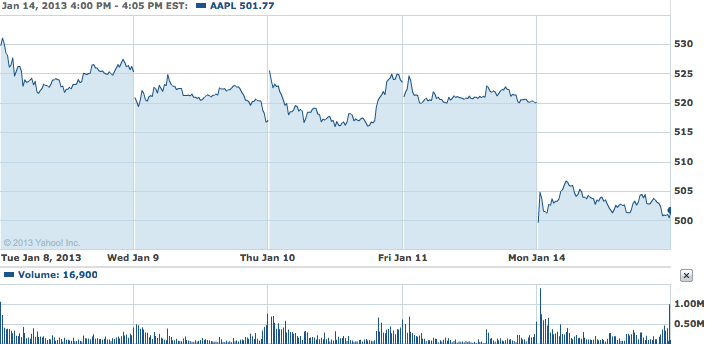 Don't Miss: Are Troubling iPhone Reports Needless Noise?