Apple Recap: iPhone in Demand, A Rating Cut, FaceTime Fun For All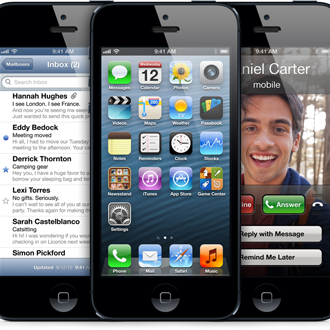 Apple's (NASDAQ:AAPL) surprisingly solid gains on Wednesday helped the Nasdaq and the rest of the tech sector despite drags from Google (NASDAQ:GOOG) and Dell (NASDAQ:DELL). Apple bounced 4.2 percent up to close at $506.09, reversing losses from the last two days and heading back into the $500 zone after dropping under on Tuesday. Here is a cheat sheet to the top stories that moved the stock on the day:
People Want More iPhones
A ChangeWave Research survey in North America found that 1 in 2 smartphone shoppers planned on buying an iPhone in the next 90 days. This was down from the overwhelming 71 percent figure last quarter, but that standout result came when the excitement for the then-newly launched iPhone 5 was at it peak. "Historically speaking, it's a solid showing for Apple," the research firm said, and it equals the level of demand for the device from last summer. Also, 70 percent of iPhone users were happy with their phone. About 56 percent of Nokia (NYSE:NOK) users said they were satisfied, a little higher than the 55 percent figure for Samsung… (Read more)
Should you buy or sell Apple's stock ahead of earnings in a few days? Our 20-page proprietary analysis will help you save time and make money. Click here to get your SPECIAL REPORT now.
A Check on Expectations
Pacific Crest analyst Andy Hargreaves cut Apple's rating from Outperform to Sector Perform on Wednesday after saying the stock lacked the potential to go materially higher in the next 12 to 24 months. According to the analyst, the current demand environment had changed in a way that the high ends of the smartphone and tablet markets were becoming saturated. Hargreaves wrote that the demand for "incremental" hardware improvements was waning and Apple
needed to come up with a big upgrade instead… (Read more)
Start 2013 better than ever by saving time and making money with your Limited Time Offer for our highly-acclaimed Stock Picker Newsletter. Click here for our fresh Feature Stock Pick now!
FaceTime For All
After months of user complaints and warnings from advocacy groups, AT&T (NYSE:T) decided to allow subscribers of all data plans to use Apple's FaceTime video chatting feature over a cellular connection. The feature will still require a compatible device using iOS 6, which includes iPhone 4S and upward and the third-generation iPad and ahead. Until now, the wireless provider only allowed users of its new data share plans to use the feature outside of Wi-Fi connections. However, its restrictive decision attracted censure from several advocacy groups, which even threatened the company with U.S. Federal Communications Commissions action… (Read more)
Don't Miss: Barry Ritholtz: Apple's Stock is a Bear Trap.