Apple Recap: Margin Pressures, the Buffett Litmus Test, and Customer Loyalty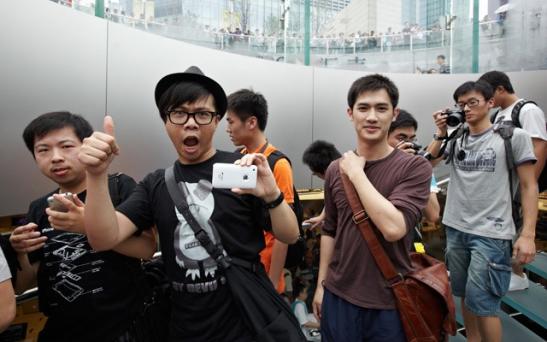 This was a big week for Apple (NASDAQ:AAPL); the company reported earnings, announced an expansion to its share buyback program, increased its quarterly dividend, and even launched a new advertisement ahead of Samsung's (SSNLF.PK) launch of the Galaxy S 4. While Apple's fiscal-second-quarter results beat expectations, the company still posted its first year-over-year decline in profit, leaving analysts a bit disappointed. Yet, shares managed to eke out a 6.83 percent gain for the week. On Friday, the stock closed up $8.82, or 2.16 percent, at $417.20. Here's a cheat sheet to today's top Apple stories:
Analyst: Apple Feels Profit Margin Pressure
Is Apple cutting prices in an effort to increase its footprint in the lucrative Greater China market? UBS analyst Steve Milunovich thinks Apple is making even more of an effort to secure a strong presence in the Chinese market by reducing its profit margins. China, which has the second largest economy in the world, has become increasingly important to Apple's future.
However, Milunovich notes that Apple's profit margin in this crucial market has decreased to 33.9 percent in the March quarter from 49.5 percent in the same quarter last year. This is also a 3.3 point reduction from the profit margin levels in the first quarter of this fiscal year… (Read more.)
Does Apple's Buyback Pass Warren Buffett's Litmus Test?
Share repurchases have a tricky history, particularly in the technology industry. Apple  is currently the anchor of the conversation that began pretty much when the first publicly-traded company decided to spend its money buying back stock instead of using it for, well, anything else.
At a glance, share repurchases indicate that a company thinks the best way to spend its money is by investing in itself. Sometimes this is true, and sometimes it is not. Dell (NASDAQ:DELL) infamously botched its buyback strategy and effectively wasted a huge amount of cash by purchasing shares at a high premium. The nearly $40-billion fiasco has become the gold standard for what not to do with a buyback program, and its zeitgeist has been summoned in reference to Apple's own tremendous capital return program… (Read more.)
Is Customer Loyalty Enough for Apple?
Despite rumors and analysts commentary indicating that Apple has lost its innovative edge and that, as a result, its loyal customer base is eroding, hard evidence has shown that not to be the case.
With data showing the overwhelming popularity of devices powered by Google's (NASDAQ:GOOG) Android at a global level, the common narrative claims that Android will dominate the iPhone. But a survey of 16,000 smartphone customers conducted by the Yankee Group over the past 12 months told a different story about the American consumer. In the United States, Apple's smartphone market share continues to beat that of devices running Google's mobile platform, and according to the survey's results, that will likely continue through 2015, at which time iPhone ownership will exceed Android ownership in the U.S… (Read more.)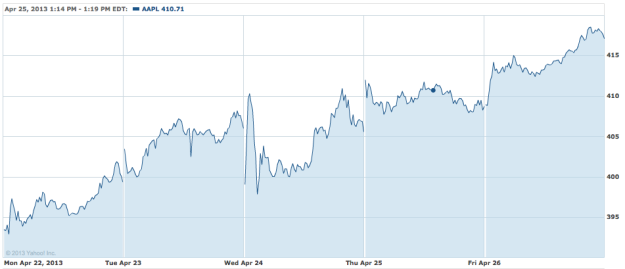 Don't Miss: Apple Suppliers Learn Not to Keep All Eggs in One Basket.