Apple Recap: Microsoft's Diss, Weak Spots, and the Cheap iPhone
Apple's (NASDAQ:AAPL) upcoming quarterly report — scheduled for release after the markets close on April 23 — is one week away, and the company is under even closer scrutiny than usual. While neither Piper Jaffray's Gene Munster nor Jefferies' Peter Misek updated their investment ratings, both analysts released fairly harsh assessments of Apple Tuesday, with particular focus on — you guess it — the iPhone. Despite the increasingly negative buzz surrounding the iPhone maker in the past month, the majority of analyst still hold a Buy rating on its shares, and 17 even have a Strong Buy rating on the stock. Meanwhile, the mean price target is set at $613.53, a figure well above the lowest target of $420 and representing a premium of close to 44 percent above the stock's closing price Tuesday. Shares ended the day up $6.36, or 1.52 percent, at $426.24. Here's a cheat sheet to today's top Apple stories:
Is Microsoft Really Dissing Google and Apple?
In a move that may soon seem typical of Microsoft (NASDAQ:MSFT), one of the company's top mobile-phone executives dissed Apple and Google (NASDAQ:GOOG) before lauding Microsoft's own Windows Phone operating system.
Microsoft's vice president of the Windows Phone division, Terry Myerson, described iOS as "boring" and Android as "a mess" at a conference in New York. His criticisms may not be entirely unwarranted. Apple's minimalist style could easily be perceived as boring, and it does lack the flexibility to spice things up with extensive customization. Meanwhile Google's Android is, in fact, plagued by fragmentation because its operating system is so widely customized by hardware manufacturers that it can be almost impossible to get an app working perfectly on all the different variants… (Read more.)
Is Asia Showing Apple's Weak Spots?
Topeka Capital's Brian White wasn't the only one to make a trip to Asia to see how things were going for Apple's production; Jefferies analyst Peter Misek also made a visit, but he came back with a slightly more negative assessment of Apple's stock.
Misek's view agrees in many ways with a note Wall St. Cheat Sheet received from Piper Jaffray's Gene Munster on Tuesday. Both analysts think that Apple was likely to fall below Street consensus estimates for the company's second and third quarters… (Read more.)
Could a Cheap iPhone Cheapen Apple?
In a note Wall St. Cheat Sheet received from Piper Jaffray analyst Gene Munster, Apple may not perform as well as previously expected, but it could still be valuable.
A large portion of Munster's note was on the effects that a cheaper iPhone would have on Apple. His expectation is that the company will release a low-end iPhone in September with an average selling price of about $300. But releasing the device could have some undesirable effects for the world's largest tech company.
A low-cost iPhone would certainly help Apple compete with the slew of cheap Android smartphones that are available on the market. However, an alternative to the more expensive iPhones could cannibalize high-end iPhone sales… (Read more.)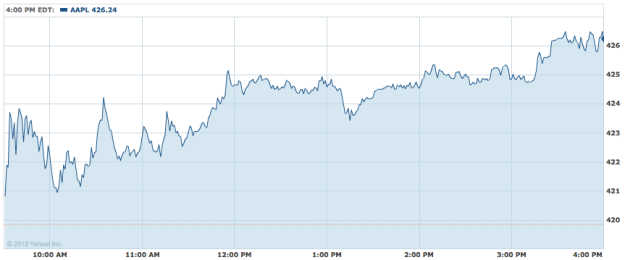 Don't Miss: Could a Cheap iPhone Cheapen Apple?