Apple Recap: Poaching, Tablet Successes, and Subscriber Base Growth
"Starbucks sells a commodity at prices 10 times higher than the cost of that commodity, because it provides the "third home" experience. While other technology companies have seen margins erode quickly at the hands of commoditizing forces, Apple has realized that technology can have pricing power [that is] tantamount to a luxury good," wrote Lazard Capital's Edward Parker in a recent note seen by Barron's on Friday. But despite that opinion and the fact that Apple (NASDAQ:AAPL) has worked hard to cultivate that reputation, shares of the iPhone maker closed down Friday by $4.55, or 1.06 percent, $423.17, contributing to a decrease of 4.4 percent over the five-day trading session. Here's a cheat sheet to today's top Apple stories:
Apple Grows While Android Slows
The most recent smartphone subscriber market share data from comScore seems to indicate that the growth of Apple's iPhone 5 subscriber base is still going strong, while devices that use Google's (NASDAQ:GOOG) Android platform appear to be on the decline. Brian Loftus, via Philip Elmer-Dewitt at CNNMoney, created a chart with comScore's data that demonstrates the recent gain in Apple's subscriber base.
In a three-month period between November 2012 and February 2013, there were a total of 10.4 million new smartphone subscribers. Of these new subscribers, 2.9 million, or 28 percent, were using Android-powered devices… (Read more.)
Will Apple Overtake Microsoft in 2013?
Sales of Apple devices will soon overtake sales of devices running Microsoft's (NASDAQ:MSFT) Windows platform according to predictions from a major market research group. Tablets will outsell laptops and desktop computers by 2015, according to a recent report released by the market research group Gartner, via the Financial Times. Apple's iPad currently dominates the tablet market with over half of the market share.
Although Microsoft has an established foothold in the traditional corporate computer market, it may find its Windows operating platform becoming less important in the overall market as more consumers shift from desktop to mobile device usage… (Read more.)
Was There An Apple-Google Anti-Poaching Conspiracy?
Apple, Google, and several other technology companies will not face a class action lawsuit over an alleged anti-poaching conspiracy — for now. In a decision rendered on Friday, U.S. District Judge Lucy Koh said the plaintiffs had not yet demonstrated that their lawsuits had enough in common to be designated with the class certification, reported Reuters. However, Koh said the "alleged overarching conspiracy" could be granted class certification in the future if "new evidence" is introduced, reports Reuters.
The lawsuit brought by five software employees alleges that Apple, Google, Adobe (NASDAQ:ADBE), Intel (NASDAQ:INTC), Intuit (NASDAQ:INTU), and Disney's (NYSE:DIS) Lucasfilm and Pixar units conspired to not poach employees from each others' companies, thereby limiting the employees' job options and salary potential… (Read more.)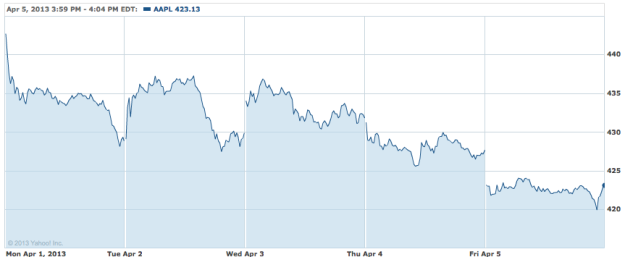 Don't Miss: Apple Wins Key Battle in Samsung Patent War.