Apple Recap: Profit Crown, Privacy Concerns, and Android's Secrets
Apple's (NASDAQ:AAPL) guidance for the current quarter has cast dark shadow over the company; when announcing its most recent financial results, the iPhone maker forecast falling gross margins for the June quarter due to a predicted increase in sales of less profitable products like the iPad mini, indicating that its margins could drop as low as 36 percent. But Apple shares have remained in the green so far this week. The stocked closed Wednesday up $5.18, or 1.13 percent, at $463.84. Here's a cheat sheet to today's top Apple stories:
Will Apple Lose the Profit Crown to Samsung?
Is Apple about to lose its handset profit crown to its South Korea-based rival? A recent report from analysts at investment research firm Canaccord Genuity suggests that Samsung (SSNLF.PK) could take the lead in handset profits as Apple's profits continue to decline. Although Apple still took the majority of profits in the first quarter of this year, analysts at Cannacord Genuity point to an overall trend which may indicate the Cupertino-based company is slipping in the race for handset profit.
Apple took 57 percent of total worldwide handset profit in the first quarter of this year, while Samsung took 43 percent. However, this is a decline for Apple compared to the same quarter from last year. In the first quarter of 2012, Apple held 74 percent of the profit, while Samsung only had 26 percent. Similarly, in the last quarter of 2012, Apple was responsible for 72 percent of global handset profits, while Samsung controlled 29 percent. Apple and Samsung were able to seize over 100 percent of the total industry's profits due to operating losses from other handset manufacturers like BlackBerry (NASDAQ:BBRY), Nokia (NYSE:NOK), and Google's (NASDAQ:GOOG) Motorola Mobility… (Read more.)
Apple Under Continued Fire For Privacy Violations
A Berlin court struck down eight of 15 provisions Apple had in its general data-use terms, Bloomberg reported Tuesday. The court mandated that it change its practices of handling customer data as it deviates too much from German law and shows insufficient consideration for privacy. Coming at a time when Apple is already facing a U.S. privacy lawsuit for its information-sharing procedures, it appears the company should start treading a little more lightly.
The violation of people's privacy rights is not a new issue for technology companies, as they have recently come under attack for the breaching of data protection and consumer rights… (Read more.)
Apple Wants Android's Secrets
Is Apple unfairly drawing Google (NASDAQ:GOOG) into its patent infringement battle with smartphone-maker Samsung? As a result of Samsung's dependency on Google's Android operating system, Apple has pulled Google into its infringement lawsuit against the South Korea-based smartphone maker. Apple is requesting that the Mountain View-based tech giant provide documents related to the open source Android platform.
Apple is seeking information about Google's methodology in searching for documents that the Cupertino-based company has requested for pretrial discovery matters. Apple argues that since the Android operating system is an integral part of Samsung's infringing technologies, Google should confirm that it is performing a thorough search of any documents related to Apple's request…(Read more.)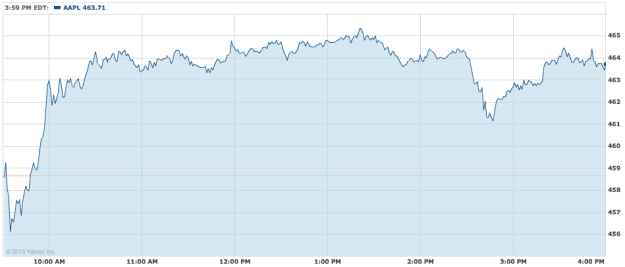 You can follow Meghan on Twitter (@MFoley_WSCS) for the latest industry news.
Don't Miss: Is the iPhone Expanding Models and Colors?