Apple Recap: Samsung's Damages and Chinese Troubles
It's a sour Monday for the world's largest technology company as Apple's (NASDAQ:AAPL) shares settle once more into their familiar — yet disappointing — path downward. The problem is that "something big" has been coming for a long time now, and everybody is tired of waiting. That sentiment has been transferred to Apple's stock, currently down 28.45 percent year-over-year and down 19.37 percent year-to-date. Investors are waiting for the stock to buck the trend or continue to fall and find a floor. After another rough treatment in the Chinese media — prompting concerns for Apple's market share in the country — and a rising tide of general market negativity, the stock ended the day down $13.75, or 3.11 percent, at 428.91. Here's a cheat sheet to today's top Apple stories:
Could Apple Take More of Samsung's Money?
It seems the idea that Samsung (SSNLF.PK) was getting off lightly after U.S. District Judge Lucy Koh eliminated almost half of the damages it owed Apple was spoken too soon as the case could turn out quite differently. While the original case ended with Samsung owing Apple $1.05 billion in damages for more than 28 different smartphones that infringed on Apple patents, Judge Koh later struck down the damages from 14 of the devices and put them off for a retrial.
Now it appears that those 14 devices — which made up less than half of the total damages — could turn out to be even more valuable for Apple than they had originally been… (Read more.)
Analyst: Here's Why Apple Looks Like HP
While Apple's brand is as different from Hewlett-Packard's (NYSE:HPQ) as one technology company can be from another, the two device manufactures have a shared experience: being the target of a smear campaign conducted by the Chinese government. With the accusations of discriminatory customer service practices raining down from the People's Daily — the Chinese Communist Party's official mouthpiece — and state-run China Central Television for three straight weeks, Citigroup analyst Glen Yeung has turned to HP as a template for calculating the potential costs the state-sponsored propaganda campaign could have on Apple.
The propaganda used against HP in 2010 decimated its business in China. In his note, Yeung indicated that Apple could suffer a similar fate… (Read more.)
Apple's Public Relations Nightmare Brought to You By Foxconn
Job cuts at a Shenzhen-based Foxconn facility appear to have pushed a worker to throw herself from the roof of the plant, AppleInsider reported. Somehow –details are few — she survived the fall, which appears to have been from a seven- or eight-story height.
Suicide attempts are not new to Foxconn, the company contracted to manufacture orders for several major device makers, most notably Apple. The company has gone so far as installing nets around its buildings to prevent jumpers from killing themselves (or trying) at its plants.  The negative attention has reflected badly on Apple in the past, which has since made commendable efforts to increase its transparency… (Read more.)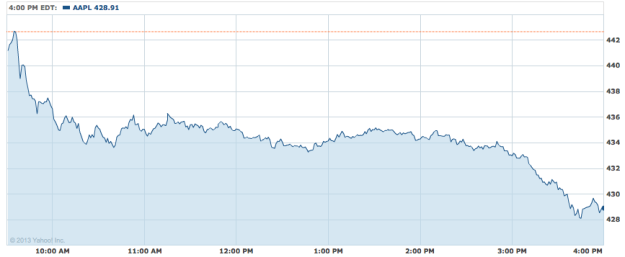 Don't Miss: Apple's Public Relations Nightmare Brought to You By Foxconn.