Apple Recap: Tuesday's Earnings, Investors' Concerns, and an Earnings Mood Swing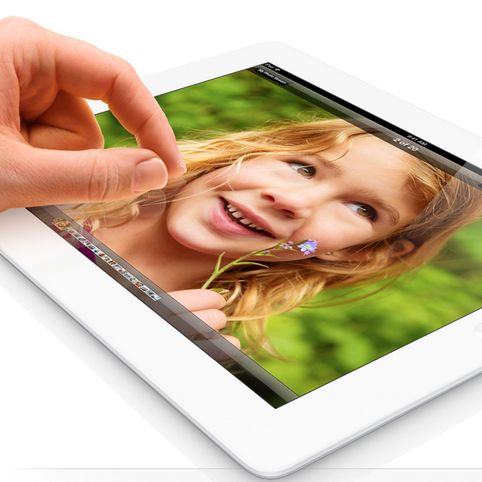 Tuesday is Apple's (NASDAQ:AAPL) big day; the iPhone maker will release its first-quarter results and analyst consensus is that the company will post a year-over-year net profit decline for the first time in a decade. With concerns that demand for the company's slew of iDevices is slumping, shares tumbled dramatically last week, sinking below the psychologically important level of $400-per-share and carving a new 52-week low of $385.10. But ahead of Apple's earnings report, shares edged up into the green, closing up $8.14, or 2.08 percent, at $398.67 on Monday. Here's a cheat sheet to today's top Apple stories:
Will Apple's Earnings Ease Investors' Concerns?
Ahead of the company's much-anticipated earnings release, there are five lingering concerns that investors hope the company will address. Since September, shares of the world's second most valuable company have fallen from their all-time high of $705 to around $391 as of Friday's close; the stock is now trading its lowest level since the death of Steve Jobs in 2011. Many analysts have argued whether that peak was ever rational, but what investors want to see in the iPhone maker's earnings report is whether the massive Apple selloff has gone far enough.
Apple has shed $290 billion in market value since September's high — a figure equivalent to about 12 times the current value of Dell (NASDAQ:DELL) — and investors want Apple to acknowledge that there is a problem. This is no small number, but Chief Executive Officer Tim Cook and Apple management have both been close-lipped regarding this matter… (Read more.)
Analyst: Apple Desperately Needs These Catalysts
Despite the malaise characterizing the majority of analyst opinions written over the past month, most analysts covering Apple's stock hold either a buy or a strong buy rating. For the sake of comparison, 44 analysts have their ratings set at a buy or strong buy, while 10 maintain a neutral rating and 3 hold an underperform or a sell rating. A few analysts have even reiterated positive commentary about the company's prospects, and Avondale's John Bright is one of them.
While the Avondale analyst believes that Apple's earnings are deteriorating — his firm cut its 2013 earnings-per-share estimate from $45.58 to $42.66 — he wrote that the stock already reflects increasing competitive pressures and tough margin compression…. (Read more.)
Apple Investors Prepare For an Earnings Mood Swing
Apple's stock, which closed Friday at $390.53 per share, is off 13.3 percent since January 24, one day after it reported first-quarter results. Investors and observers will remember that those results alone drove shares down more than 12 percent overnight.
All told, the bears seem to have the run of the place. Reuters reports that options pricing on Friday suggests a post-earnings move of about 7.5 percent by April 26 for Apple stock. According to Birinyi, a research firm cited by the publication, this would be the fourth-largest one-day post-earnings move in the past five years. A move of that magnitude would also exceed the average 5.4 post-earnings swing… (Read more.)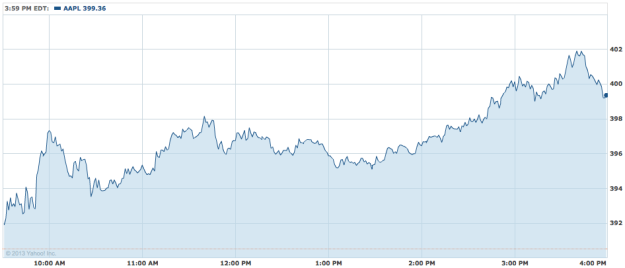 Don't Miss: Who's Calling For a New Apple CEO, and Why?