Apple Reduces Screen Orders and 3 Morning Hot Stocks Trading Today
Verint (NASDAQ:VRNT): Current Price $34.00
Verint (NASDAQ:VRNT), a developer of video and audio monitoring systems and software for the defence market, may be bought over by Israeli company Nice Systems (NASDAQ:NICE) for $1.5 billion in a cash and stock deal, as per the Calcalist newspaper, quoted by Reuters. Nice develops security software, data analysis tools and systems for protection of civilian buildings and transport networks and has a current market value of $2.1 billion. The deal would probably have to go through a number of anti-trust approvals considering the two companies operate across many countries internationally.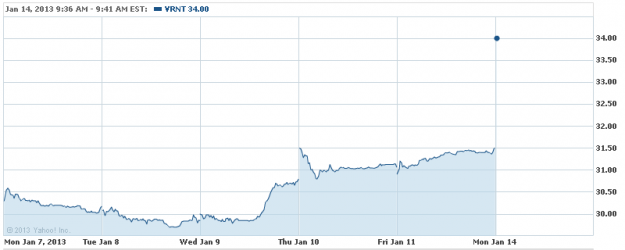 UPS (NYSE:UPS): Current Price $79.21
UPS (NYSE:UPS) and its takeover target TNT Express disclosed that the European Commission would most likely veto their proposed deal, leading to its abandonment. UPS said, "UPS will pay TNT a termination fee in the amount of 200 million euros and will withdraw the offer," once a formal decision by the EC is made public. The development is a blow to TNT Express, already reeling from falling demand in Europe and problems with restructuring its operations in Brazil.

Start 2013 better than ever by saving time and making money with your Limited Time Offer for our highly-acclaimed Stock Picker Newsletter. Get our fresh Feature Stock Pick now!
Apple Inc (NASDAQ:AAPL): Current Price $503.50
A Wall Street Journal report says Apple Inc (NASDAQ:AAPL) has cut orders on its supply chain for iPhone 5 screens by nearly half because demand during the January to March quarter was much weaker than expected. Orders for other components have also been cut, according to sources. The fall in demand for the company's products comes as rival Samsung moves from strength to strength, with a global smartphone shipment share of 31.3% in Q3 2012 compared to Apple's 14.6% share. Strong sales of Samsung's Galaxy smartphones is likely to drive the Korean company's fourth-quarter operating profit to a record $8.1 billion-$8.5 billion.

Tesla Motors Inc (NASDAQ:TSLA): Current Price $32.97
Glad tidings from Tesla Motors Inc (NASDAQ:TSLA) chief executive Elon Musk — The model S has reached its targeted production of 20,000 units a year and Tesla will likely report its first quarterly profit towards the end of 2013. Also, the company will launch luxury crossover model X, which is based on the model S platform, in the second half of 2014.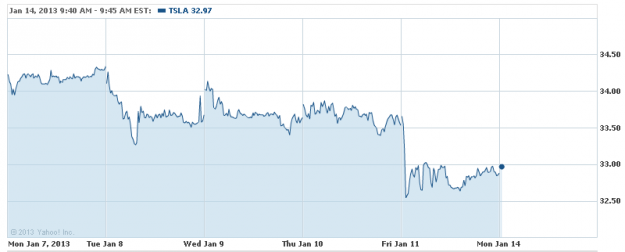 Don't Miss: What's Behind Apple's Torrid Start to the Day?