Apple Restores Removed iWorks Features After User Outcry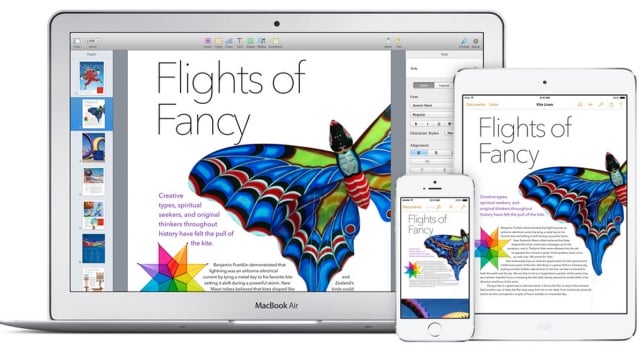 Apple (NASDAQ:AAPL) has recently restored many of the popular features that were removed in last month's iWork applications update, reports Apple Insider.  Apple's latest iWork suite update appears to be a direct response to the slew of customer complaints that the company received following the changes implemented in the reworked suite of apps on October 22. The iWork suite of applications includes Keynote, Numbers, and Pages.
In the latest update, Apple restored the customizable toolbars that were stripped out of the revamped Mac versions of Keynote, Numbers, and Pages last month. The removal of the toolbars appeared to be one of the biggest issues that many Apple users had with the revamped applications. Besides the return of the customizable toolbars, all of the applications also received many entirely new features.
The iOS and Mac versions of Keynote gained seven new transitions, including Blinds, Color Planes, Confetti, Fall, Perspective, Pivot, and Swoosh. The new Mac version of Numbers will now remember a spreadsheet's window size and placement settings when the file is saved. Additionally, the center and edge guides in Pages are now enabled by default.
One of the most prominent critics of Apple's original software changes was Harvard Law professor Lawrence Lessig, who documented his upgrade-related problems with multiple applications on his blog. In response to these complaints, Apple put a posting on its website titled, "About the new iWork for Mac: Features and compatibility." In the posting, Apple explained some of the app design changes and promised to restore 18 removed features over the next six months.
Although many Apple users were satisfied with Apple's response and the recent update, other users noted that the iWork update's issues have made them less likely to update their Apple software in the future. "The side-effect of the iWorks fiasco is that customers will be leary of updating, and the adoption rate for new Apple software versions will be lower and slower," wrote Apple forum commenter Kenneth Collins 1.
Apple's iWork suite of applications is free for users that buy a new device. However, the Mac and iOS versions of all of the apps can also be purchased through the Mac App Store or iTunes Store. Here's how Apple closed on Friday.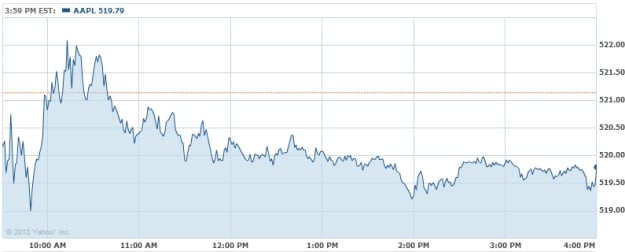 Follow Nathanael on Twitter (@ArnoldEtan_WSCS)
Don't Miss: Patent Retrial Verdict Cuts Samsung to the Core With $290 Million to Apple.