Apple Results Awaited for Smartphone Implications and 2 More Heavily Traded Stocks to Follow
Apple (NASDAQ:AAPL): Current price $417.42
Reports from Samsung Electronics and HTC Corp. on Friday indicate that growth in demand for high-end smartphones is slumping, which could make Apple's results later in July even more eagerly anticipated than usual. Both Samsung and HTC posted results during the Asian trading session: Samsung's shares slid  by 3.8 percent after it projected lower-than-expected operating profits for the quarter, with analysts citing slower shipments of its flagship Galaxy S4 as part of the blame for the deficit. Meanwhile, HTC posted a sharp fall in profits in the face of the debut of the well-reviewed HTC One smartphone which was expected to help the firm's fortunes rebound in the Android market.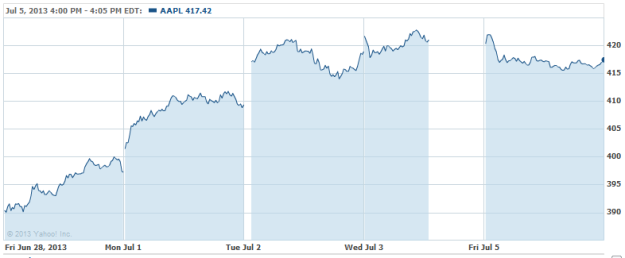 Tesla Motors (NASDAQ:TSLA): Current price $120.09
Tesla reports that it has received hundreds of orders for its new Model S sedan, sufficient to double the number of electric cars on the roads and streets of Hong Kong. Kenneth Lui, the Hong Kong sales manager for the company, said in an interview Thursday that "our number is over all electric cars in Hong Kong combined," and that the prices of the vehicle, which will be available in the city this winter, will be revealed in the next couple of months. Tesla has forecast that Model S sales will hit 21,000 units in 2013, with deliveries to Europe and Asia starting in the second half.

Sprint Nextel Corporation (NYSE:S): Current price $7.16
At long last, the Federal Communications Commission has okayed SoftBank Corp.'s $21.6-billion offer for Sprint Nextel Corp. giving the Japanese billionaire Masayoshi Son a position in the United States market. FCC Acting Chairwoman Mignon Clyburn said in a statement on Friday that "today is a good day for all Americans who use mobile broadband services," adding that the commission decided that the transfer of control of Sprint's airwaves is in the public's interest. In addition, the Commission approved Sprint's offer to acquire the half of wireless operator Clearwire Corp. that it does not already own.