Apple Retailer Says Mac Pro Will Go on Sale December 16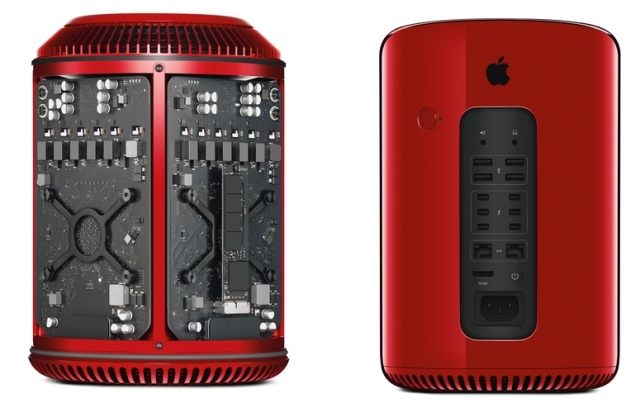 Apple (NASDAQ:AAPL) still hasn't given a release date for the new Mac Pro besides saying it will become available sometime in December, but a German retailer has posted on its website that the Mac Pro will be available on December 16.
German site Conrad has started taking Mac Pro preorders, claiming that the computer will be ready for purchase on December 16, according to 9 to 5 Mac. While Conrad is an authorized Apple retailer and the Mac Pro is advertized on the site's homepage — signaling that the listing is not an accident — it's unlikely that Conrad has received any guarantee from Apple that the device will go on sale that day. Further, 9 to 5 Mac said that it's most likely that Conrad is using the date as a placeholder to rack up preorders for the new computer.
Apple gave a little face time to the new computer at its media event mostly dedicated to unveiling the new iPad lineup at the end of October. The base model starts at $2999, and Apple promised the new computer would ship by the end of the year. The new Mac Pro has a unique cylinder shape, some impressive specs, and was assembled in the U.S.
"The new Mac Pro is our vision for the future of the pro desktop, everything about it has been reimagined and there has never been anything like it," said Philip Schiller, Apple's senior vice president of Worldwide Marketing in a press release that can be read on 9 to 5 Mac. "The new Mac Pro packs up to 12-core Xeon CPUs, dual FirePro GPUs, ultra-fast ECC memory, new PCIe flash storage, Thunderbolt 2 expandability, and more into a radical new design that is one-eighth the size of the previous generation Mac Pro." That same statement describes the Mac Pro as "the most radical Mac ever."
One lucky customer has gotten to buy one of the devices early. Apple's Jony Ive and fellow designer Mark Newson teamed up to design a slew of products that were sold at an auction benefiting Bono's (RED) charity for AIDS research and awareness, and one of those products was a red Mac Pro. That computer was auctioned off by Sotheby's New York for $977,000.
Here's how Apple traded on Thursday:

Follow Jacqueline on Twitter @Jacqui_WSCS
Don't Miss: Having Problems With the iPhone 5S Touch ID?