Apple Rides an Upgrade, China Mobile's Softer Quarter, and 3 More Hot Stocks
Apple Inc. (NASDAQ:AAPL): Societe Generale analyst Andy Perkins has slapped a price target of $575, up from $500, on Apple with a rating of Buy, up from Hold. "We suspect that lower competition may enable Apple to take more market share and help it to rebuild margins," Perkins said. A month ago, Perkins took his Buy rating down after Apple reported a spectacular iPhone 5S/5C release weekend but didn't make any adjustments to its guidance.
China Mobile Ltd. (NYSE:CHL): China Mobile shares are sliding as the company reported a net profit of 28.36 billion Chinese yuan (about $4.65 billion) versus 31.10 billion yuan from the third quarter of last year. However, revenue of 159.9 billion yuan ($26.25 billion) exceeded last year's 142.05 billion yuan; China Mobile moved 1.083 trillion voice minutes during the period, up from 1.062 trillion last year, but down from 1.10 trillion in the quarter before. Mobile data traffic grew 19 percent over the second quarter and 82 percent year-over-year to 142.1 billion MB.
Hasbro Inc. (NYSE:HAS): Hasbro shares are up a solid 6 percent as the toy company exceeded projections, with earnings of $1.31 beating by 2 cents and revenues of $1.37 billion beating by $0.03 billion. The girls category saw growth of 29 percent, in part to the successful launch of My Little Pony Equestria Girls; the International and Entertainment and Licensing segments saw double-digit growth that helped offset a 5 percent decline domestically.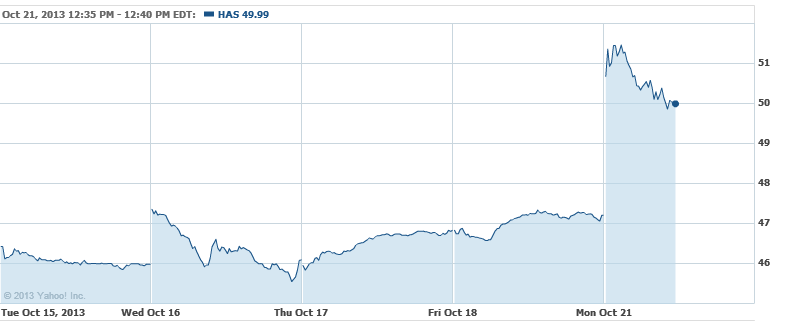 Starbucks Corp. (NASDAQ:SBUX): China has now chosen Starbucks as the latest multinational corporation to pick on for its business practices, as the official China Central Television (CCTV) is now accusing the company of charging more in the country than it charges elsewhere. CCTV pointed out that a medium-size latte costs 27 yuan ($4.43) at Starbucks in Beijing, a third more than in Chicago; it also added that Starbucks's second-quarter profit margin was 32 percent in China-Asia Pacific, well above the 21 percent in the Americas and 2 percent in Europe, Middle East, and Africa division.

Nokia Corp. (NYSE:NOK): Shares of Nokia are up slightly as a report indicates that Nokia's handset sales have pierced the 8 million mark for the third quarter, over the 7.4 million from the second quarter. That number would be double the figure from the third quarter of 2012; the speculations are surfacing just ahead of Nokia's Abu Dhabi event on Tuesday, where it is expected to reveal six new products, including a tablet computer.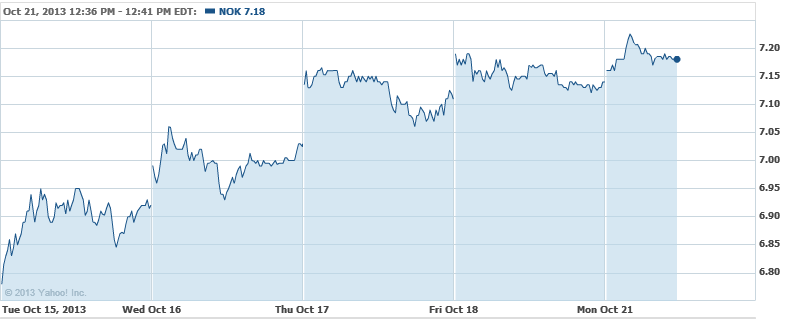 Don't Miss: Analyst: This Is Apple's 'Most Important iPad Refresh' Since 2010.