Apple Seeks Continuous Image Patent and 3 Tech Titans on the Move
Apple Inc. (NASDAQ:AAPL): Current Price: $469.80
Bad iPhone pictures may become a problem of the past if a new Apple patent sees the light of day. The patent was published today by the U.S. Patent and Trademark Office and the patent application was named "Image Capturing Device Having Continuous Image Capture." The patent describes a process in which your smartphone camera captures and processes a sequence of quick images of the same shot.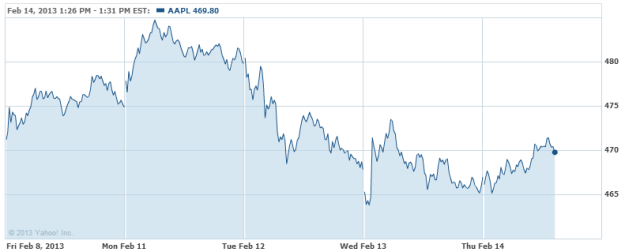 Google Inc. (NASDAQ:GOOG): Current Price: $784.18
Hewlett-Packard (NYSE:HPQ) is set to adopt Google's Android operating system and its first Android device is to be a high-end tablet that will be powered by NVIDIA's (NASDAQ:NVDA) Tegra 4 chip, according to ReadWrite, citing sources familiar with the matter.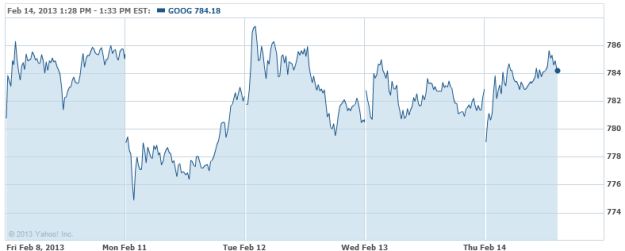 Microsoft Corporation (NASDAQ:MSFT): Current Price: $27.96
The company has not made much of an impact in Apple and Google's domination of mobile computing, but on Wednesday, a top Microsoft executive hinted that it will not cease trying and does not have an alternative strategy.

Intel Corporation (NASDAQ:INTC): Current Price: $21.21
Intel scaled back its plans for the next version of Itanium in a move that causes some to question the future of the 64-bit server chip, a component used mainly in Hewlett-Packard's high-end Integrity servers. In a short notice that was posted to its website, Intel stated that the next version of Itanium, codenamed Kittson, is to be produced on a 32 nanometer manufacturing process instead of on a more advanced process as it had previously planned.

Don't Miss: Will Apple TV Overtake Microsoft's Xbox?