Apple Selling Off Again and 2 More Heavily Traded Stocks
Apple (NASDAQ:AAPL): Current price $392.14
In an almost unbelievable turn of events, traders have erased the entirety ofApple's gains from 2012, and sank its once skyrocketing shares to a level seen last in December 2011. To make things even worse, the shares are in the midst of theirsecond consecutive high-volume sell-off day. The stock's IBD Accumulation-Distribution rating has dropped to a C-, showing that more institutional investors are selling versus buying. By mid-afternoon,Apple was down 2.4 percent in the market today, trading near $393; the stock had peaked at $705.07 on September 21st.Investors this week were shocked by new reports that Apple's mobile device sales are stalling.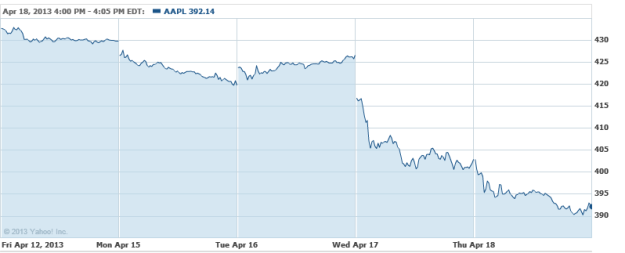 Ford Motor Company(NYSE:F): Current price $12.76
Shares of the iconic automaker were reiterated Thursday atTheStreet Ratings with a Buy along with a ratings score of B. Analysts pointed to the firm's strengths seen in a number of areas, like its revenue growth, notable return on equity and a hike in stock price during the past 52 weeks. They also believed that these strengths surpass the fact that Ford has seen "somewhat weak growth" in earnings per share.

Zynga (NASDAQ:ZNGA): Current price $3.17
The company has introduceda new free card battler game namedWar of the Fallen, which is presently available onApples App store, and will soon be available onGoogle Play.This story-based game contains a unique map-oriented progression system, in which gamers play the role of a Shardbreaker. During the the game, they meet other characters and to go forward they have to build and customize their card decks.Zyngas new game follows the success ofAyakashi: Ghost Guild, which was a card battler game debuted in late 2012, and is currently available in 8 languages.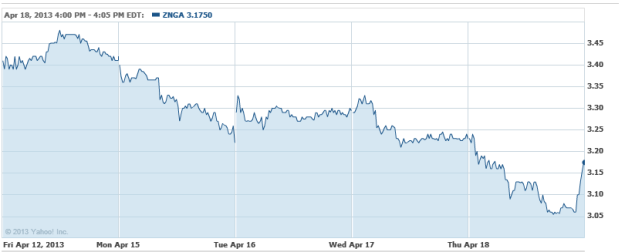 Don't Miss: Is Apples Full-Size iPad Shrinking?