Apple Shares Slip After News of Smartphone Market Share

Apple (NASDAQ:AAPL) shares closed down 0.60 percent on Friday after the most recent data from market research firm Gartner showed that the iPhone maker's share of the worldwide smartphone market fell to 12.1 percent in the third quarter from 14.3 percent in the year-ago quarter. Meanwhile, rival Samsung (SSNLF.PK) maintained its No. 1 ranking in the global smartphone market with the same 32.1 percent share that it held last year.
Although Apple lost market share, it actually boosted its iPhone unit shipments by 23.2 percent over the same quarter last year. According to Gartner, Apple shipped 30.3 million iPhone units in the third quarter of this year, in contrast to 24.6 million units in the year-ago quarter.
Gartner's data also showed that Google's (NASDAQ:GOOG) Android operating system is continuing to grow its presence in the worldwide smartphone market. Android secured an 81.9 percent share of the market in the third quarter, up from the 72.6 percent share it held in the same quarter last year.
However, it should be noted that Gartner's data doesn't include many sales of Apple's new iPhone models, since the iPhone 5C and iPhone 5S didn't become available until the very end of the third quarter. "While the arrival of the new iPhones 5s and 5c had a positive impact on overall sales, such impact could have been greater had they not started shipping late in the quarter," observed Anshul Gupta, principal research analyst at Gartner. "While we saw some inventory built up for the iPhone 5c, there was good demand for iPhone 5s with stock out in many markets."
The Gartner analyst also noted that Apple's iPad mini with Retina display appears to be debuting at an opportune time in the U.S. tablet market. "We will see several new tablets enter the market for the holiday season, and we expect consumers in mature markets will favor the purchase of smaller-sized tablets over the replacement of their older smartphones," stated Gupta.
Although Gartner's report showed that Apple maintained a significant share of the global smartphone market in the third quarter, Samsung's growing lead and the expansion of the Android platform was enough to make some investors jittery at the end of last week. However, Apple is likely to regain its lost smartphone market share in the current quarter, according to several analysts' predictions. Canaccord Genuity's Mike Walkley and Piper Jaffray's Gene Munster have both forecasted strong iPhone 5S sales for the upcoming holiday shopping season.
Here's how Apple closed on Friday.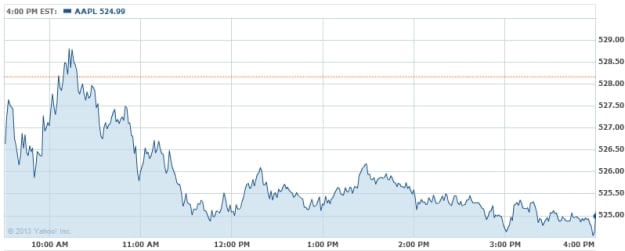 Follow Nathanael on Twitter (@ArnoldEtan_WSCS)
Don't Miss: Rumor: Apple's iWatch Design Different for Men and Women.