Apple Slashes MBP Price and 3 Tech Titans on the Move
Apple Inc. (NASDAQ:AAPL): Current Price: $465.59
The company has begun to reduce the price on the base version of its 13-inch MacBook Pro laptop with retina display by $200 while it is revamping its top-end laptops. This slash comes only weeks after it reported a steep fall in Mac sales during the holiday quarter.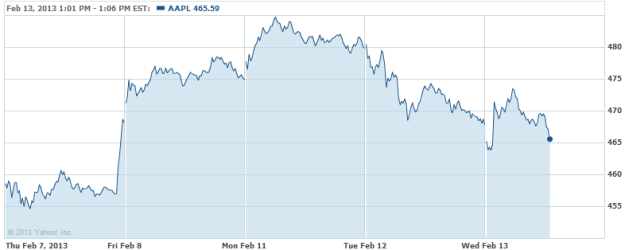 Google Inc. (NASDAQ:GOOG): Current Price: $782.86
According to Google-owned YouTube, it filed its first lawsuit against Russian regulators concerning new law restricting the content that officials consider to be potentially harmful to children, according to the Wall Street Journal. The law began in November and provides communications regulators with the authority to block access to content that is considered hazardous to the health and development of children by promoting drugs and suicide.
Are these stocks a buy or sell? Let us help you decide. Check out our Stock Picker Newsletter now.

Microsoft Corporation (NASDAQ:MSFT): Current Price: 27.97
Microsoft blew it with the Xbox and now is facing the possibility of Apple totally destroying the business. In his blog, Nat Brown, the founder of the original Xbox project, recently wrote, "Apple, if it chooses to do so, will simply kill Playstation, Wii-U and xBox by introducing an open 30 percent-cut app/game ecosystem for Apple-TV…I already make a lot of money on iOS – I will be the first to write apps for Apple-TV when I can and I know I'll make money. I would for xBox if I could and I knew I would make money."

Intel Corporation (NASDAQ:INTC): Current Price: $21.22
The company continues to be the world's biggest chipmaker and it has begun building an Internet television set-top box that it intends to sell directly to consumers in hopes of creating a new market for its processors.

Don't Miss: Apple Finally Owns Japan.