Apple: Spaceship HQ Will Bring California the Dough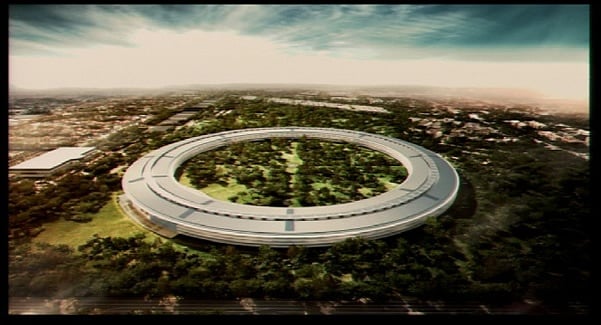 Apple (NASDAQ:AAPL) outlines the many economic benefits of its Apple Campus 2, or "spaceship campus," in a new report recently published on its site titled "Economic and Fiscal Impacts Generated by Apple in Cupertino — Current Facilities and Apple Campus 2." In this report, Apple notes the positive impact that it currently has on the local economy, and touts the additional benefits that the new multi-billion dollar facility will bring.
Apple states that the "iconic" centerpiece building will "accommodate up to 12,000 employees." It also notes that the company is expected to hire 7,400 additional employees between now and the scheduled Apple Campus 2 completion date in 2016. This will bring Apple's total employee count up to 23,400. The report also points out that Apple already has 16,000 employees that account for 40 percent of Cupertino's job base.
Although Apple has recently come under scrutiny for its overseas tax practices, the company can boast that it will soon be providing an additional $3.8 million in tax revenue, which brings its total tax revenue to $13 million. The company also notes that it will soon pay $56.5 million in property taxes, including $2.9 million to the city of Cupertino.
As part of the construction process, Apple plans on funding roadway improvements, bike lane expansions, and additional tree plantings. These public improvements will total over $66 million. Additionally, Apple will make an annual investment of $35 million to fund "a transportation demand management program, to implement the company's alternative commute program. "
Apple's new campus will also have a significant positive impact on surrounding local businesses. The report notes that Apple already makes purchases totaling $4.6 billion from over 700 local businesses. The new campus is expected to add approximately $2.1 billion worth of purchases, bringing the total to $6.7 billion.
The Apple Campus 2 project was originally announced in 2011 by Steve Jobs, who predicted it would be "the best office building in the world." Although the project was originally slated for completion in 2015, it is now planned to be finished in 2016. According to anonymous sources via Bloomberg Businessweek, "the budget for Apple's Campus 2 has ballooned from less than $3 billion to nearly $5 billion" since it was originally announced.
Although Apple is sometimes criticized for using overseas manufacturing facilities and engaging in questionable tax-avoidance strategies, this report demonstrates the many positive economic benefits that Apple brings to the local California economy as well as the overall economy of the U.S. Apple paid $6 billion in federal corporate income tax last year and is on route to pay $7 billion in federal taxes this year. Here's how Apple has traded so far this week.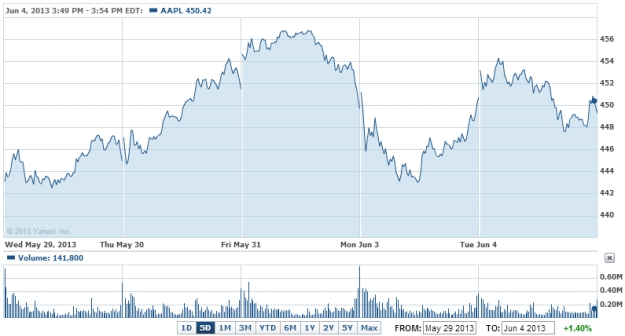 Follow Nathanael on Twitter (@ArnoldEtan_WSCS)
Don't Miss: Apple Nation Is Growing Ranks Rapidly.