Apple Spurs Sapphire Jobs Initiative, Hertz Sinks After Report, and 3 More Hot Stocks
Apple Inc. (NASDAQ:AAPL): Apple has signed a sapphire production deal with GT Advanced (GTAT) where the latter will supply Apple with sapphire needed from an Apple-owned facility in Arizona. GT plans on hiring 700 people for the initiative, while Apple will be providing GT with a $578 million prepayment to help the process along. GT will eventually reimburse Apple for the prepayment over five years, starting in 2015.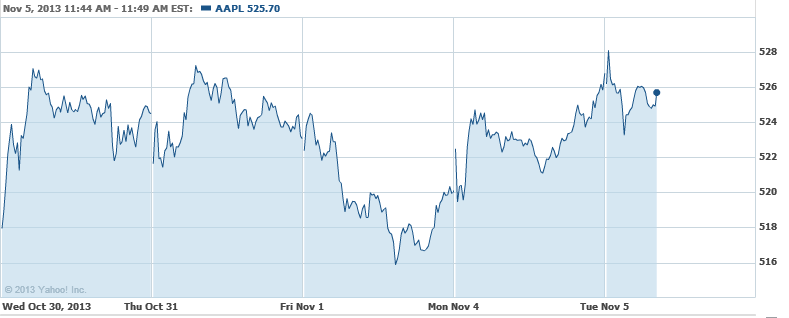 Hertz Global Holdings (NYSE:HTZ): Despite beats for both earnings and revenue, Hertz shares are suffering as the rental agency reports GAAP net profit that 11.6 percent to $214 million (adjusted net profit swelled 20.5 percent). U.S. car rental revenue saw a 32.6 percent leap to $1.76 billion, mainly due to the purchase of Dollar Thrifty last year. Revenue from the worldwide equipment rental division grew 10.7 percent to $401.8 million.
Telefonica S.A. (NYSE:TEF): As reported on Monday, Telefonica has in fact agreed to sell its 65.9 percent holding in its Czech telecom unit to PPF Group, the investment company that belongs to local billionaire Petr Kellner, for 2.47 billion euros ($3.4 billion). Telefonica will hold on to a 4.9 percent stake, and will receive 2.06 billion euros up front, and 404 million euros over four years. The sale proceeds will be used to pay down Telefonica's hefty debt load.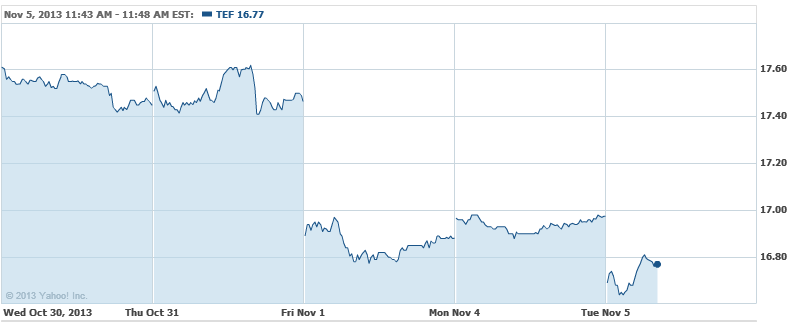 Isis Pharmaceuticals (NASDAQ:ISIS): Isis shares are trading lower as it reports EPS of -$0.21, and revenue of $23.58 million, besting estimates by $3.76 million. As anticipated, operating expenditures came in higher for the period at $46.3 million due to development costs.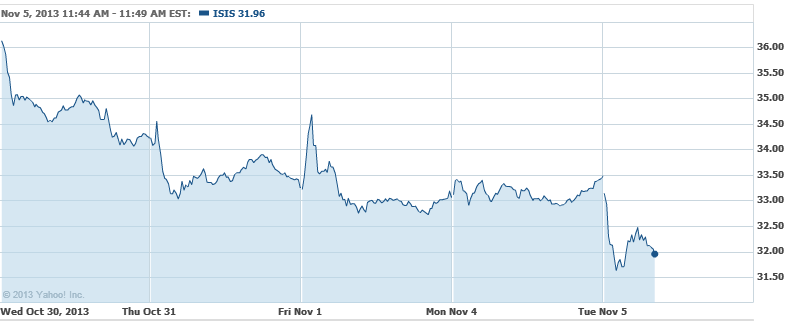 NYSE Euronext (NYSE:NYX): EPS of 53 cents missed expectations by two pennies, and revenue of $574 million missed as well, by $8.3 million. Adjusted net profit surged 21 percent to $131 million as total net profit grew 65 percent to $178 million. However, the big news is that NYSE Euronext is being taken over by IntercontinentalExchange (NYSE:ICE), which should close in a matter of days, CEO Jeff Sprecher said on the earnings call.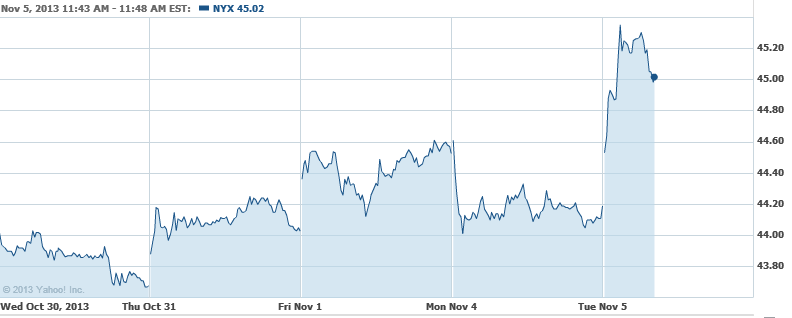 Don't Miss: What's Behind Apple's High Warranty Accruals?