Apple Stands as Lone Defendant and 3 Tech Titans on the Move
Apple Inc. (NASDAQ:AAPL): Current price $475.78
The United States Justice Department and Macmillan have reached a settlement over the antitrust lawsuit relating to e-book pricing, meaning book retailers will now be able to discount the digital titles of all major publishers in the US. Macmillan is the last of five major publishers to settle the suit, filed against them by the Justice Department last year. Three publishers settled in April, while a fourth, Penguin Group, settled in December. The agreement leaves Apple Inc., as the only remaining outstanding defendant in the government's lawsuit. A spokeswoman for Apple declined to comment.

Google Inc. (NASDAQ:GOOG): Current price $783.68
"We don't go through your emails to sell ads," a narrator said in Microsoft Inc.'s latest "Scroogled" advertisement. That is the thrust of Microsoft's second major advertising offensive against Google.
Are these stocks a buy or sell? Let us help you decide. Check out our Stock Picker Newsletter now.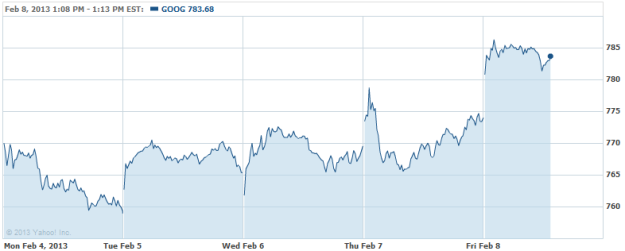 Microsoft Corporation (NASDAQ:MSFT): Current price $27.59
People who need to access to your shared MS Office documents via a SkyDrive link should now find the process a bit easier. Using Microsoft Corporation's Office Web Apps or Office 2013, you can create a URL  for any document that you store online. You can then e-mail that URL to anyone who needs to view or edit your file. Previously, that process required your collaborators to sign in with a Microsoft account before they could tweak your document.

Intel Corporation (NASDAQ:INTC):  Current price $21.03
The 7-inch Asus Fonepad, which would be the first Intel-based Phablet, is expected to debut at the Mobile World Conference later this month.

Don't Miss: Apple Now Stands Alone in E-Book Case.