Apple Steals Radio Exec From Cumulus Media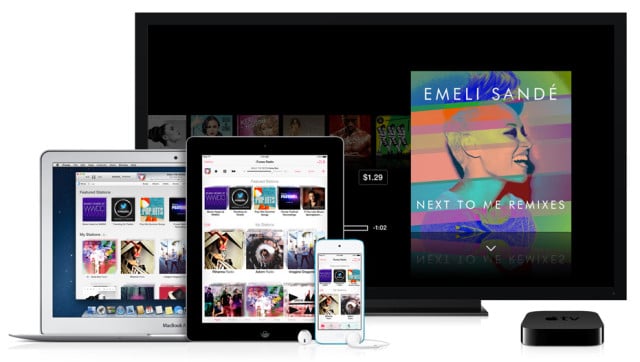 Apple (NASDAQ:AAPL) has hired a former executive from radio giant Cumulus Media (NASDAQ:CMLS) to help beef up the new iTunes Radio and find advertisers for the digital radio service for 2014. Ad Age reports that Michael Pallad, formerly the vice president of sales at Cumulus, is now in charge of international ad sales for iTunes Radio.
People familiar with the matter who spoke to Ad Age said that Pallad started working at the company's Cupertino, California, headquarters on December 2 and spent last week going through orientation.
Ad Age also said that Apple is looking to obtain million dollar, yearlong contracts with major advertisers and hired Pallad to help them do it. Apple's current iTunes Radio advertising contracts with companies including Nissan (NSANY.PK) and PepsiCo (NYSE:PEP) are set to expire at the end of the year.
Apple is looking to steal a bigger slice of the online radio market from competitors like Pandora (NYSE:P) and Spotify. According to data from eMarketer cited by Ad Age, the digital radio advertising market in the U.S. has reached $1.56 billion. For now, Pandora, with its 70.9 million active users, is the leader of that market.
Last month, Pandora CFO Michael Herring said that Pandora's listening hours grew 9 percent from September, when iTunes Radio was launched, to October. Pandora's share of the online radio market grew from 7.7 percent to 8.06 percent from September to October, and Pandora users streamed 1.47 billion hours of music the month after iTunes Radio came out.
However, data released during Pandora's fiscal third-quarter earnings report showed that year-over-year, Pandora's number of unique monthly listeners fell in October. While listening hours and market share may have grown, Pandora's active listeners fell by 2.6 percent from September to October. CEO Brian McAndrews said that the decline was probably due to "Pandora's most casual listeners experimenting with other services, most likely iTunes Radio."
Follow Jacqueline on Twitter @Jacqui_WSCS
Don't Miss: Apple's Siri Gets a C+ on Her Report Card.