Apple Sticks to Winning Legal Script, PetroBras's Debt Efforts, and 3 More Hot Stocks
Apple Inc. (NASDAQ:AAPL): Back in court for its "do-over trial" against Samsung, Apple is using the same formula, nearly step for step, that won it a $1.05 billion award last year. Harold McElhinny — also the lawyer from 2012′s verdict — started by showing jurors the video clip played at the original trial, of Apple co-founder Steve Jobs introducing the iPhone at a 2007 conference, and then recited the same Samsung internal emails that he brought forth at the first trial. Even the first witness he called was a repeat from 2012, Bloomberg reported.

Petroleo Brasileiro S.A. (NYSE:PBR): PetroBras's $2.6 billion sale to PetroChina will be one step closer to balancing its books, The New York Times reports, as stagnant production has caused the company to run up a healthy debt tab, made only worse by government regulations that restrict PetroBras's ability to sell gas and diesel domestically at or above global market prices. "[PetroBras's] debt is already close to 35 percent of its equity," the Times writes, "the level at which ratings agencies might downgrade the company. So its ability to raise money from the capital markets is limited."

The Gap Inc. (NYSE:GPS): The Gap has declared a 20 cent per share quarterly dividend, in line with its previous dividend offerings. It has a forward yield 1.93 percent and is payable on January 29 for shareholders of record on January 8. It has an ex-dividend date of January 6.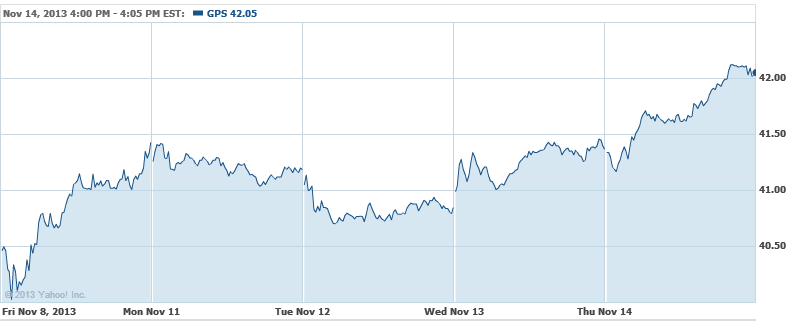 Goldman Sachs Group (NYSE:GS): Goldman Sachs has promoted a few more employees to its managing director circle this year, 280 compared to 266 last year, though there won't be another new managing director class until 2015, since the bank is moving from making the promotions annually to once every two years. The securities division brought in 94 managing directors, investment banking got 51, 39 were in investment management, 14 in research, and eight in merchant banking.
Toyota Motor Corp. (NYSE:TM): Toyota is fighting claims that hydrogen fuel cell vehicles are a lost cause, with criticisms coming in heavy-handed from plug-in car enthusiasts. Citing the laws of thermodynamics, Toyota maintains that on a well-to-wheel analysis, hydrogen stacks up quite favorably compared to internal combustion or electric alternatives, fighting the argument that hydrogen is a "net energy loser."

Don't Miss: Don't Expect an Apple TV Anytime Soon.