Apple Stocks Up on iPad Minis as Holiday Shopping Season Kicks Off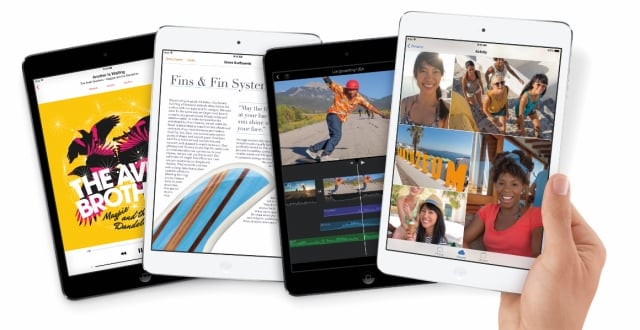 Cantor Fitzgerald analyst Brian White shared his thoughts about the availability of Apple's (NASDAQ:AAPL) iPad mini with Retina display in a recent note to investors. In the note obtained by Barron's, the analyst observed that Apple's second-generation iPad mini has finally started to become available for walk-in purchase at Apple's retail stores.
"As of late last night, the Fifth Avenue Apple Store received shipments for in-store pickup of the iPad mini with Retina Display and certain other NYC stores (Upper West Side, 14th Street) received shipments this morning, which we believe is an early indicator that other stores around the country (and world) will start to receive shipments over the next week," wrote White.
The Cupertino-based company caught many Apple watchers off guard when it unexpectedly launched the iPad mini with Retina display on November 12. Many industry analysts predicted that Apple would delay the launch of its new compact tablet for as long as possible due to supply constraints. However, White believes that the Retina iPad mini supply constraints are what drove Apple to stage its "stealthiest" device launch to date. The analyst also believes that Apple's new iPad mini is in the third phase of this so-called "stealth" launch.
"This clandestine launch began with a quiet pre-order period (11/12), and this transitioned to a 'Personal Pickup' availability (but limited) late last week," wrote White in the note obtained by Barron's. "The third phase of this stealth launch appears to be limited availability of the iPad mini with Retina Display at a very small number of Apple Retail stores." However, White believes the recently increased availability will lead to "a wider rollout in the U.S. and around the world over the next week."
Although the analyst had hoped that the device would be available in "mass volume" at the Apple Stores by the end of this week, he noted that Black Friday will prove to the most important day for the Retina iPad mini's availability. Black Friday is the first Friday following Thanksgiving Day and is the traditional start to the holiday shopping season.
White predicted that Apple will likely have the iPad mini with Retina display "available in mass" by Black Friday based on the increasing supplies he saw in Apple Stores in New York City. White reiterated a "Buy" rating and a $777 price target on Apple shares. Here's how Apple has traded so far today.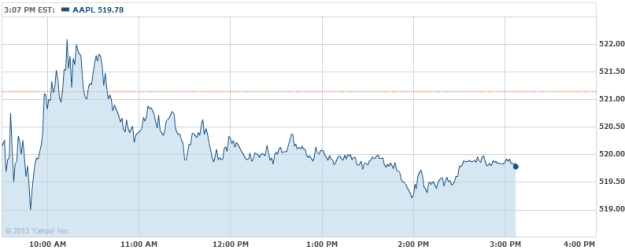 Follow Nathanael on Twitter (@ArnoldEtan_WSCS)
Don't Miss: China Mobile Drops a Big iPhone Hint.