Apple Stores Get Interactive With iBeacon System

Apple (NASDAQ:AAPL) revealed that it has started using its iBeacon micro-location technology at all of its 254 U.S. stores today, reports the Associated Press. The Bluetooth Low Energy-enabled iBeacon system will add an interactive dimension to Apple users' shopping experiences in the Apple Store.
Users can access the system's features by downloading and activating the Apple Store app and giving Apple permission to track your location and send notifications. Once a user enters one of the Apple Stores, the app automatically switches to an "in-store mode." The app will then provide information based on a user's specific location inside the Apple Store.
For example, if a shopper is walking by an iPhone display, they may get a message about their upgrade availability or receive an alert about a special trade-in offer. The app could also inform users about additional features or pricing of a product based on their proximity to it. The Bluetooth-based technology allows the iBeacon system to more accurately pinpoint a user's location in the store than GPS can.
Although Apple's implementation of the iBeacon system will likely increase the overall profile of in-store location technologies, it should be noted that similar systems are already in use at other retailers. For example, GigaOM recently reported that Macy's (NYSE:M) had partnered with shopping app company Shopkick and installed "ShopBeacons" that use Apple's iBeacon technology in two of its retail locations. As previously reported by Mashable, Major League Baseball is also in the process of testing an iBeacon-based navigation system for some of its stadiums.
As noted by MacRumors, the iBeacon communications standard was first introduced as part of iOS 7's SDK (software development kit) during this year's Worldwide Developers Conference. Apple has previously utilized the iBeacon protocol to allow users to wirelessly configure their third-generation Apple TV devices.
Mark Gurman of 9to5Mac first reported the rumors of Apple's retail iBeacon plans last month. The website also noted that Tim Cook had a meeting with Apple's retail leadership earlier this year where he announced several new initiatives designed to increase direct sales through the Apple Stores. It now appears that the iBeacon system is part of an overall plan aimed at improving the Apple Store's sales.
Here's how Apple has traded over the past five sessions.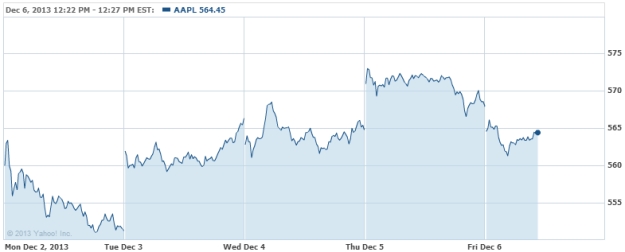 Follow Nathanael on Twitter (@ArnoldEtan_WSCS)
Don't Miss: Moody's to Apple: Don't Listen to Carl Icahn.