Apple Stores Recover From Technical Hiccup

Apple's (NASDAQ:AAPL) retail stores were unable to handle any transactions for about two hours on Thursday due to a temporary glitch in the company's internal systems, reports Apple Insider. Although the full extent of the outage is unknown, customers reported that many retail stores in the U.S. were unable to process in-store purchases or pickups for items ordered online during this time.
As noted by Apple Insider, the Personal Pickup outage suggests that the problem may have extended to Apple's international retail locations. Although Apple uses a computerized point-of-sale system for its in-store transactions, some customers via MacRumors reported that they were able to make purchases at certain Apple Stores that were providing handwritten sales receipts.
Fortunately, Apple's retail systems outage only lasted a few hours and likely didn't have a major effect on Apple's retail sales. However, if Apple were to encounter a similar problem during the height of the holiday shopping season, it could have more significant consequences for the Cupertino-based company. The Friday after Thanksgiving is traditionally considered the beginning of the holiday shopping season in the U.S.
Traffic at Apple's retail stores tends to peak after new product releases and during the holiday shopping season. For the first time, Apple released two new iPhone models simultaneously on September 20. More recently, Apple launched the 9.7 inch iPad Air on November 1 and the 7.9 inch iPad mini with Retina display on November 12. Prominent analysts such as Canaccord Genuity's Mike Walkley and Piper Jaffray's Gene Munster are predicting that Apple will have strong iPhone 5C sales during this holiday season.
Apple's retail stores handle a significant portion of the company's overall sales and are known as the most successful retail stores in the U.S. based on sales per square foot. According to Customer Growth Partners' data cited by the Wall Street Journal, Apple's retail locations make an estimated $4,542 per square foot.
Apple CFO Peter Oppenheimer noted the importance of Apple's retail operations in the company's fiscal fourth-quarter earnings call. "We hosted 99 million visitors to stores during the quarter which translates to 18,500 visitors per store per week," said Oppenheimer. He also noted that each of the 411 Apple Stores open during the September quarter made an average of $10.9 million in revenue. Here's how Apple has traded over the past five trading sessions.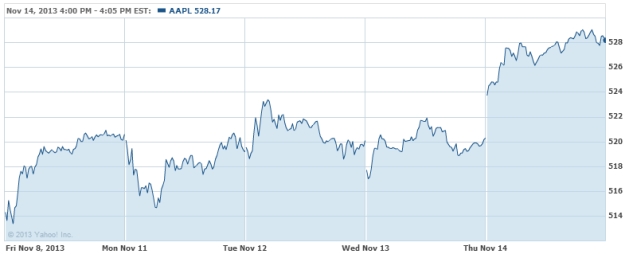 Follow Nathanael on Twitter (@ArnoldEtan_WSCS)
Don't Miss: Munster: Apple Is Catching Up to iPhone 5S Demand.