Apple Supplier Takes Heat, Wendy's Posts a Solid Quarter, and 3 More Hot Stocks
Apple Inc. (NASDAQ:AAPL): Apple supplier Flextronics, based in Singapore, has been accused of using indentured servitude tactics to ensure that it meets the lofty goals put forth by the electronics company, violating Apple's supplier guidelines during efforts to ramp production just ahead of the launch of the iPhone 5. "We aggressively investigate any claims of bonded labor where Apple products are made," said spokesman Chris Gaither, adding that the company "is continuously auditing deeper into the supply chain" and takes "these allegations extremely seriously," AppleInsider reports.

Wendy's Co. (NYSE:WEN): Wendy's shares are tanking more than 13 percent as it reports earnings per share of 8 cents, beating by 2 cents, and revenue of $640.8 million, missing projections by $4.64 million. Company-owned same-store sales increased 3.2 percent in North America during the third quarter as franchise-owned stores saw gains of 3.1 percent. Wendy's was able to expand its margins thanks to a positive sales mix and lower paper and beverage costs.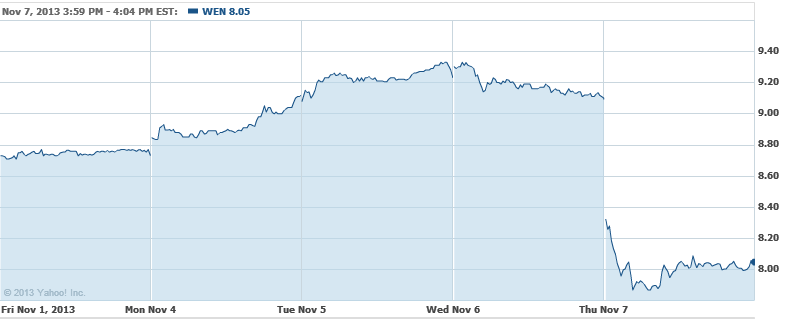 Abercrombie & Fitch Co. (NYSE:ANF): Abercrombie & Fitch shares are up marginally despite a Bank of America downgrade to Underperform from Buy and an assigned a $30 price target. The firm took management to task for improperly addressing the "faltering" domestic popularity of the brand, while the efforts to create larger sizes of clothing were "too little, too late" following CEO Mike Jeffries's rather disparaging remarks about the segment, which in turn brought a flurry of negative publicity on Abercrombie & Fitch.

Toll Brothers Inc. (NYSE:TOL): Toll Brothers has initiated the launch of an offering of 6.25 million shares as the home construction firm seeks to raise enough capital to help pay for its $1.6 billion acquisition of the home-building business belonging to Shapell Industries. At Wednesday's closing price, Toll Brothers should manage proceeds of about $200 million.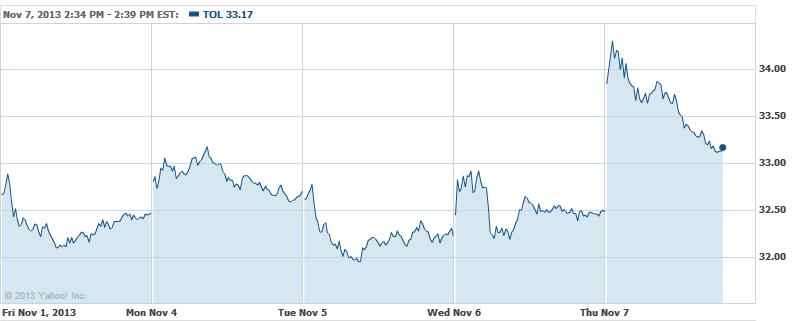 Costco Wholesale Corp. (NASDAQ:COST): Costco shares are trading around flat as the retailer reports that net sales grew 6 percent, to $8.15 billion, for the month of October. Comparable sales rose 3 percent, comfortably above the 2.6 percent consensus. U.S. sales grew 4 percent and international contributed 3 percent. Costco now has 642 warehouses under its belt and plans to open another seven before the end of the year.
Don't Miss: Does This Apple Patent Offer Yet Another iWatch Clue?