Apple Takes Legal Victory as Samsung Takes Phablet Market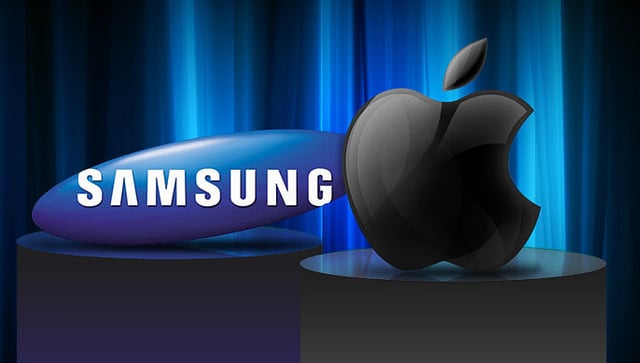 Is Apple's (NASDAQ:AAPL) recent court victory over Samsung (SSNLF.PK) an example of "winning the battle but losing the war?" The jury in the recently concluded Apple v. Samsung trial ruled that Samsung must pay Apple more than $290 million in damages over 13 products that were found to be infringing on five of the California-based company's patents. Although Apple trounced Samsung in the courtroom, some industry commentators believe that Samsung is winning a more important battle over smartphone size.
According to the Guardian's Dan Gillmor, Apple has fallen behind in the smartphone market by failing to increase its smartphone screen size beyond four inches. Although he believes that the iPhone is still the best all-around smartphone available on the market today, he noted that Apple is missing out on a large market segment of users who have learned to love Samsung's so-called "phablets."
As noted by Gillmor, phablets are especially popular in the Asian market, and some analysts have urged Apple to exploit this market segment by releasing its own "iPhone Max." Samsung pioneered this market with its Galaxy Note devices and has been able to maintain its dominance in the absence of a comparably sized iOS-based competitor.
Gillmor believes that Apple's patent-infringement battle against Samsung is an example of how the company is too focused on slowing down the competition at the expense of adapting its products to the changing market. Although Samsung's phone-tablet hybrid is not a "giant" breakthrough, he noted that even incremental improvements such as screen size can still help drive innovation.
Although Gillmor believes that Apple has been too slow in adapting to changing consumer tastes, the latest industry rumors suggest that the iPhone maker is already working on a large-screen device. According to "insiders" recently cited by China's Ctech website, Apple has started testing a 4.9-inch "iPhone 6" prototype. Ctech's report also lines up with recent supply chain rumors reported by the Wall Street Journal and well-connected KGI Securities analyst Ming-Chi Kuo.
Although some Apple purists might be doubtful that the tech company would alter its products based on Samsung's product designs, it should be noted that the iPad maker has previously introduced new products in response to Samsung's "innovations." According to the Wall Street Journal, Samsung's lawyers presented an internal Apple email during the recent damages trial that showed that Apple executives discussed creating the 7.9-inch iPad mini in response to the success of Samsung's 7-inch Galaxy Tab. However, until Apple decides to throw its hat in the phablet arena, Samsung will continue to enjoy dominating the one market segment where it doesn't face competition from its biggest smartphone rival.
Here's how Apple closed on Friday.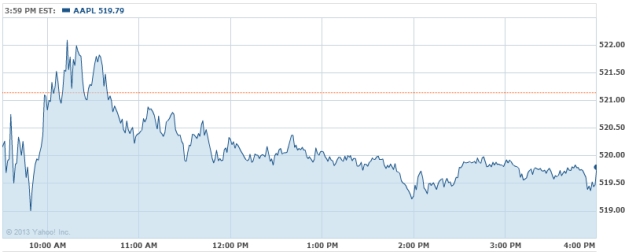 Follow Nathanael on Twitter (@ArnoldEtan_WSCS)
Don't Miss: Apple v. Samsung Jurors Praise Expert Witness.