Apple Takes Slow and Steady Approach to Television Market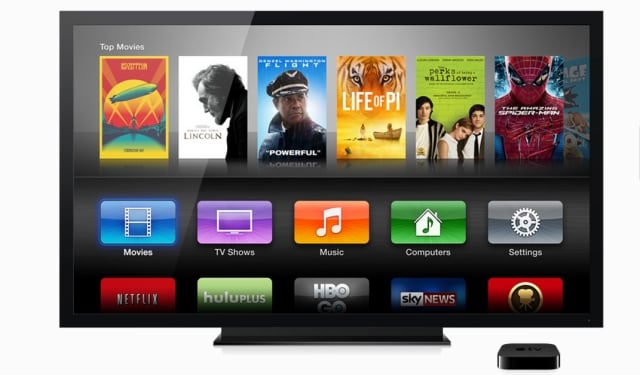 Rumors of a revolutionary Apple (NASDAQ:AAPL) television product have been around ever since Steve Jobs told biographer Walter Isaacson that he would like to create "an integrated television set that is completely easy to use." Although Jobs claimed to have "finally cracked it," he revealed few details about his television plans to his biographer. Several years have now passed since Jobs's revelation and some tech commentators have started to criticize Apple for squandering its opportunity to enter the television market.
However, industry watcher John Martellaro at The Street recently pointed out that there is an inherent contradiction in this criticism. After all, if no one knows what Apple's television innovation will be, it is impossible to know if the company has missed its opportunity.
Samsung (SSNLF.PK) currently has a Smart TV that includes many of the features that some industry watchers have speculated might be included in a future Apple television product. The Samsung Smart TV features natural language voice interaction, gesture controls, and face recognition.
However, it should be noted that having the first product to market doesn't necessarily result in a product's long-term success. Although Apple wasn't the first company to enter the digital music player market, its iconic iPod soon became the standard-bearer of the market.
Based on recent supply chain rumors and acquisitions, it appears that Apple is using the same methodical approach to creating its so-called "iTV" that it used to create the iPod and iPhone. Apple recently acquired 3D sensor technology company PrimeSense, the same company that provided the technology for Microsoft's (NASDAQ:MSFT) Xbox 360 Kinect device. This technology could also be used to power a gesture-based control system and facial recognition capabilities for a future Apple television product.
Apple could also easily leverage Siri, its voice-activated personal assistant, into a voice interaction system for a television product. Martellaro noted that Siri's natural language capabilities would make a future Apple product especially appealing to older customers who may find other interactive television control systems confusing.
According to supply chain sources cited by NPD Group's DisplaySearch, Apple is actively lining up resources for 55-inch and 65-inch televisions with 4K resolution. The market research firm believes that Apple will have its television product ready by the second half of 2014. Piper Jaffray analyst Gene Munster also believes that the iTV will launch in 2014.
On the other hand, well-connected KGI Securities analyst Ming-Chi Kuo recently predicted that the Apple television will not launch until 2015 or even 2016. Cantor Fitzgerald analyst Brian White has perhaps taken the best approach by refusing to offer an Apple television timeline, meanwhile noting that a "full-blown Apple TV continues to be a wildcard." Although Apple watchers cannot be sure when the long-rumored television set will finally be released, Apple's history of success in other tech product markets is a good reminder that the California-based company is not in any danger of missing its opportunity to dominate the growing "smart" television market.
Here's how Apple traded on Friday.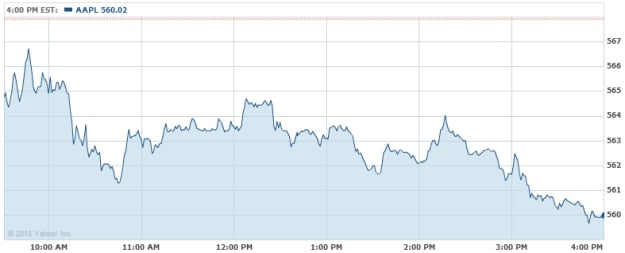 Follow Nathanael on Twitter (@ArnoldEtan_WSCS)
Don't Miss: Apple Stores Get Interactive With iBeacon System.