Apple to Court: Stop Monitor's Unconstitutional Oversight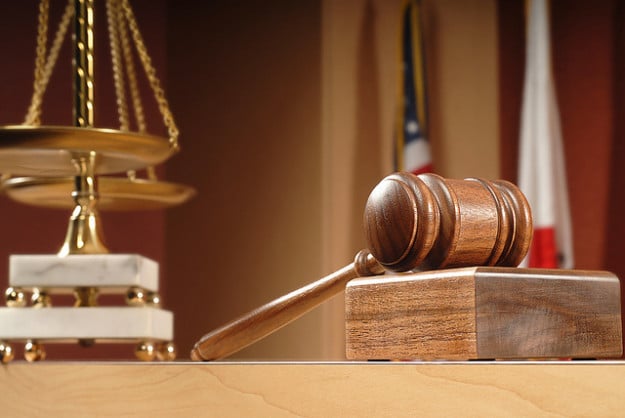 Apple (NASDAQ:AAPL) filed a motion in a Manhattan federal court on Thursday that seeks to halt the activities of the external compliance monitor that was appointed by the court after Apple lost its e-book price-fixing trial earlier this year, reports Fortune's Roger Parloff. Apple's latest filing follows a complaint that was filed on Thanksgiving Day that accused the court-appointed antitrust compliance monitor of gouging the tech company that he is supposed to be overseeing.
In its latest filing, Apple asked the court for "a stay of the monitor provision of the injunction while Apple's appeal is heard by the Second Circuit." As previously reported, Apple filed a notice of appeal in October against the antitrust guilty-verdict that the U.S. Department of Justice won in July. However, Apple will not have an opportunity to present its arguments until next year. In the meantime, Apple is concerned that the compliance monitor will do "irreparable injury" to the company.
"Even if Apple prevails on appeal, the two-year monitorship will be (at least nearly) completed by that point, and all the very real costs imposed on Apple and the harm and disruption to its business from Mr. Bromwich's invasive investigation will have inflicted damage that neither Apple nor the Court will be able to undo," wrote Apple in its filing. However, Apple is confident that it will eventually win its appeal because, "The injunction, especially as it is being interpreted and implemented by Mr. Bromwich as the Court's agent, is flatly unconstitutional."
In the filing, Apple alleged that Bromwich "is conducting a roving investigation that is interfering with Apple's business operations, risking the public disclosure of privileged and confidential information, and imposing substantial and rapidly escalating costs." As previously reported by Bloomberg, Apple has accused the monitor of overcharging the company with an hourly fee of $1,100 plus a 15 percent administrative fee.
Michael Bromwich was appointed by Judge Denise Cote as Apple's external compliance monitor in October. According to the official White House website, Bromwich previously worked as an independent monitor for a police department and also helped the U.S. government oversee reforms in the oil industry. However, some critics have suggested that Bromwich's appointment was improper, since he has no professional experience with antitrust law and is a personal friend of Judge Cote.
Apple also believes that Bromwich started his monitoring duties before he was authorized to do so. According to the terms stipulated in the injunction, the external compliance monitor was supposed to review and report on Apple's internal antitrust compliance and training programs 90 days after being appointed. As noted by Fortune, Judge Cote appointed Bromwich on October 16, which means that he should not have started his monitoring duties until January 14.
Based on these reasons, Apple has requested that the monitor's activities be suspended until Apple's appeal is heard by the Second Circuit. According to Fortune, Apple also noted that it will seek an expedited appeal if Judge Cote denies its request for a stay. Here's how Apple traded on Friday.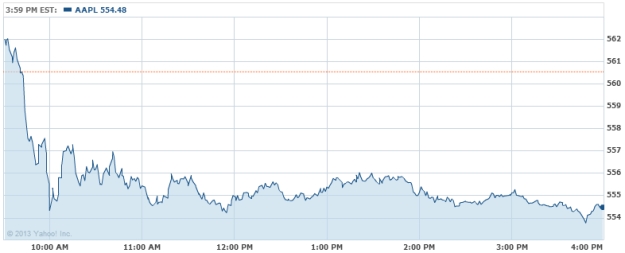 Follow Nathanael on Twitter (@ArnoldEtan_WSCS)
Don't Miss: 5 Amazing Apple Products That May Be Coming in 2014.