Apple to Cut 5C Production, Intel Beats Estimates, and 3 More Hot Stocks
Apple Inc. (NASDAQ:AAPL): Investors appear to be focusing more intently on the sales of Apple's iPhone 5S, instead of the 5C, as the stock opened slightly higher Wednesday despite Apple's notification to manufacturers of the 5C that it will be cutting orders of the smartphone for the final three months of the year, Reuters reports. Manufacturer Hon Hai's (Foxconn) orders are reportedly getting cut by a third, and Pegatron's by less than 20 percent.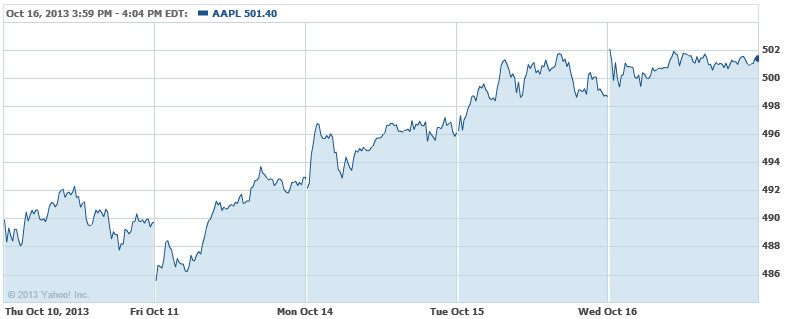 Intel Corp. (NASDAQ:INTC): Intel reported its quarterly results Tuesday night, with earnings per share of 58 cents beating by 5 cents, and revenue of $13.48 billion, just sliding past projections by $0.01 billion. The PC Client Group reported a $3.26 billion operating profit, down 3 percent year-over-year; software and services posted a $5 million loss against a $4 million profit a year earlier. However, Data Center Group (server CPUs) had a third-quarter operating profit of $1.39 billion, up 16 percent over 2012.
Chesapeake Energy Corp. (NYSE:CHK): Chesapeake shares are trading up as the company says it will take down about $70 million in one-time charges in the third and fourth quarter, related to its recent layoffs of some 900 employees, according to a U.S. Securities and Exchange Commission filing. About $45 million is tabbed as compensation expenses related to the acceleration of restricted stock awards, and another $25 million is related to other workforce cuts outside of the workforce reduction plan, Seeking Alpha reports.

Twitter Inc. (NYSE:TWTR): Twitter has decided to forgo its listing on the Nasdaq and opt for the NYSE instead; between the two exchanges, social media is split fairly evenly, as Facebook is traded on the Nasdaq and LinkedIn is on the NYSE. Twitter's IPO could come sometime in mid-November.
TransOcean Ltd. (NYSE:RIG): TransOcean has been awarded a five-year contract for the construction of a dynamically positioned ultra-deepwater drillship by Chevron (NYSE:CVX), with shipyard delivery slated for the second quarter of 2016. Excluding capitalized interest, the capital investment for the newbuild drillship is an estimated $725 million, Reuters reports.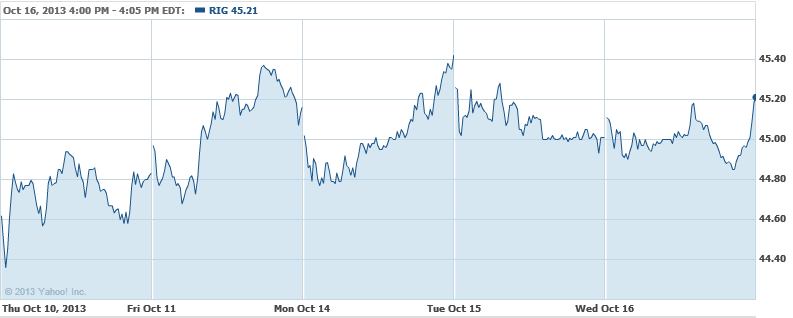 Don't Miss: Donald Trump to Apple: Large-Screen iPhone — Now!