Apple to Lose Trademark in Brazil and 3 Hot Stocks Turning Heads
Netflix, Inc. (NASDAQ:NFLX): Current Price: $181.40
Yesterday, Netflix, along with Flavor Unit Entertainment, the production company owned by Queen Latifah and Shakim Compere, announced an exclusive licensing agreement for movies in the US. In the first-look deal, Netflix is to have its pick of movies that are to debut on the world's leading Internet television subscription service shortly following theatrical release from the company that produced movies like "Bringing Down the House" and "Beauty Shop". In Spring 2013, Netflix members will have the ability to exclusively enjoy Flavor Unit titles.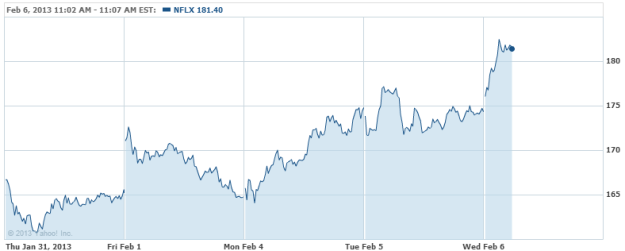 Biogen Idec Inc. (NASDAQ:BIIB): Current Price: $161.39
The company announced that it agreed to purchase Elan's interest in Tysabri and upon closing, it is to gain full strategic, commercial and decision-making rights to Tysabri. When the transaction is closed, the previous collaboration agreement between the companies is to be terminated along with the agreement's change of control provisions.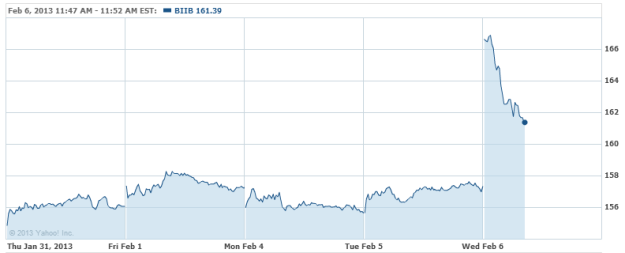 Apple Inc. (NASDAQ:AAPL): Current Price: $462.58
Apple will lose its iPhone trademark in Brazil after the Brazilian Institute of Intellectual Property gave the name "iphone" to consumer electronics maker Gradiente Eletronica SA, according to Reuters. A source familiar with the decision claims that the Brazilian copyright regulator is to make the announcement on February 13 and then, Apple will be able to challenge the ruling.

Facebook, Inc. (NASDAQ:FB): Current Price: $29.08
Spreadtrum (NASDAQ:SPRD) has announced that it will expand its partnership with Facebook, allowing users around the world outside of China to be able to access Facebook via Android smartphones that are designed with Spreadtrum's smartphone chipsets. With this partnership, Spreadtrum is to collaborate with Facebook on platform testing and optimization of the user's application experience on Spreadtrum's mobile platform previous to the release of new versions of Facebook software. This is expected to accelerate the availability of Facebook's updated features to handset makers and to ensure a high quality consumer experience.