Apple to Users: No Direct Government Access
Has Apple (NASDAQ:AAPL) been exposing its users to secret government scrutiny? Apple and eight other major U.S. tech companies were named in a top-secret National Security Agency document that was obtained by the Washington Post. The report alleges that the NSA and FBI have recruited these companies for a secret program known as PRISM and that this program allows them to directly access these companies' servers to extract large amounts of user data.
Via the Washington Post, Apple spokesperson Steve Dowling stated, "We have never heard of PRISM. We do not provide any government agency with direct access to our servers, and any government agency requesting customer data must get a court order." The report also alleges that Apple held out for five years after PRISM recruited the first company – Microsoft (NASDAQ:MSFT) — in 2007.
According to the Washington Post report, the participating companies include Apple, AOL (NYSE:AOL), Facebook (NASDAQ:FB), Google (NASDAQ:GOOG), Microsoft, PalTalk, Skype, Yahoo (NASDAQ:YHOO), and YouTube. Apple is not the only company denying its involvement with this secret government program.
A Google spokesperson stated, "Google cares deeply about the security of our users' data. We disclose user data to government in accordance with the law, and we review all such requests carefully. From time to time, people allege that we have created a government 'back door' into our systems, but Google does not have a 'back door' for the government to access private user data" reports the Washington Post.
Microsoft also released a statement that denied participating in the government's spying efforts. "We provide customer data only when we receive a legally binding order or subpoena to do so, and never on a voluntary basis. In addition we only ever comply with orders for requests about specific accounts or identifiers. If the government has a broader voluntary national security program to gather customer data we don't participate in it," stated Microsoft via the Washington Post.
Yahoo released a brief statement via the Washington Post that read, "Yahoo! takes users' privacy very seriously. We do not provide the government with direct access to our servers, systems, or network."
Via All Things D, Facebook stated, "We do not provide any government organization with direct access to Facebook servers. When Facebook is asked for data or information about specific individuals, we carefully scrutinize any such request for compliance with all applicable laws, and provide information only to the extent required by law."
Here's how Apple has been trading so far this week.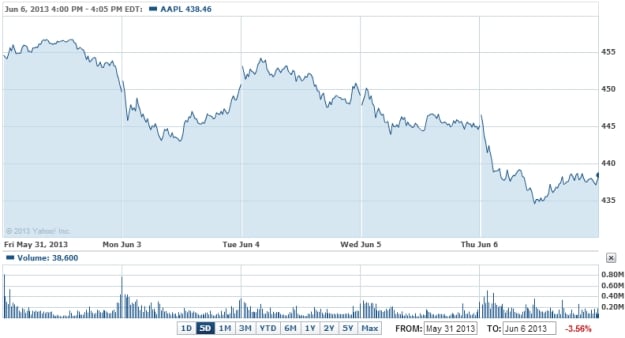 Follow Nathanael on Twitter (@ArnoldEtan_WSCS)
Don't Miss: Apple Will Pay for Your Old iPhone.